Segmenting and activating audiences using AI in a Customer Data Platform
by Jan Hendrik Fleury, on Jan 11, 2022 8:47:34 PM
The changes in the technical and regulatory environment around collecting and processing personal data are impacting the ability of companies to precisely target and measure their audiences. Brands have to review their data strategies to continue to accurately reach their audiences and optimize their media budgets.
No need to lose sleep because there is a proven solution: the implementation of an AI-based Marketing Engine in a custom-build CDP on Google Cloud Platform.
This flexible solution enables you to exploit first-party data to its full potential, in full compliance with regulations. This solution allows audiences to be segmented in an automated way adopting MLOps for managed activation across all owned, earned, and paid digital marketing platforms.
Embrace the change by building the solution
The disappearance of third-party cookies and the decrease in the volume of first-party data make targeting and retargeting more challenging. The technologies that will replace third-party cookies won't achieve the same degree of relevance and volume. Measurement capabilities will be considerably reduced: it will no longer be possible to track and reconcile all digital touchpoints. And complying with regulations will make collecting and processing personal data more complex.
The ability to deal with these constraints is an opportunity to distinguish yourself
The key is to build a consumer data strategy:
Collect first-party data (CRM, website and app browsing, media, PoS, etc.) to be able to exploit their full potential;

Build

a

flexible and tightly integrated ecosystem

of systems and apps to activate this data and measure marketing action performance; a Customer Data Platform, or CDP, which I will discuss later in this article;
Enrich first-party data with external data, third-party data such as socio-demographics, and second-party data that is data that is legitimately shared with another company.
We have developed this kind of solution several times, both in B2B such as for FD Media Group and in B2C and D2C eCommerce.
AI with Marketing Audience Engines to optimize and personalize your campaigns
To personalize and optimize digital marketing campaigns, you need to be able to build relevant and easily activatable segments. This is the role of Marketing Activation and Analytics Clouds that are being built on the Google Cloud Platform. Google Cloud is most suited for this if you ask me. It is the ease of build and ease of integration of Google Cloud, and the native integrations with the Google advertising and measurement ecosystem such as Google Ads, and Google Analytics.
Audience engines adopt MLOps principles and centralize site-centric and app data, always while respecting the user's data privacy. Second- and third-party data are added to enrich proprietary data.
These data can then be aggregated using algorithms that can have different functions, some of which are noted below:
Scoring: calculation of a specific value at the visitor or customer level, or assignment to a group at a segment level. Input features can include information such as browsing data, purchase history, email interactions, socio-demographics, etc. After distinguishing targeting strategy using these scores, the onsite/in-app and advertising content (messages, creatives, offers) can be customized for each population. This also helps optimize media investments through biddings adjustments based on the value attributed to an audience segment.
Clustering or look-alike: assembling audience communities and connecting them to marketing activation platforms to enable audience extension.
Rules-based audience: in eCommerce, rule-based audiences can be made using transactional activities (checkout date, coupon applied, etc.), marketing actions (email opened, promotion entered, etc.), or even product details (eg. type of product, color or type purchased).
A/B testing and Insights: isolation of part of the audience to verify the relevance of digital strategies and created audiences. In this way, segmentation capabilities can be continuously improved.
Adopting MLOps principles will allow for automation of continuous training and monitoring of models/segment creation. The resulting audience segments can be fed into the advertiser's ecosystem of activation platforms in near real-time.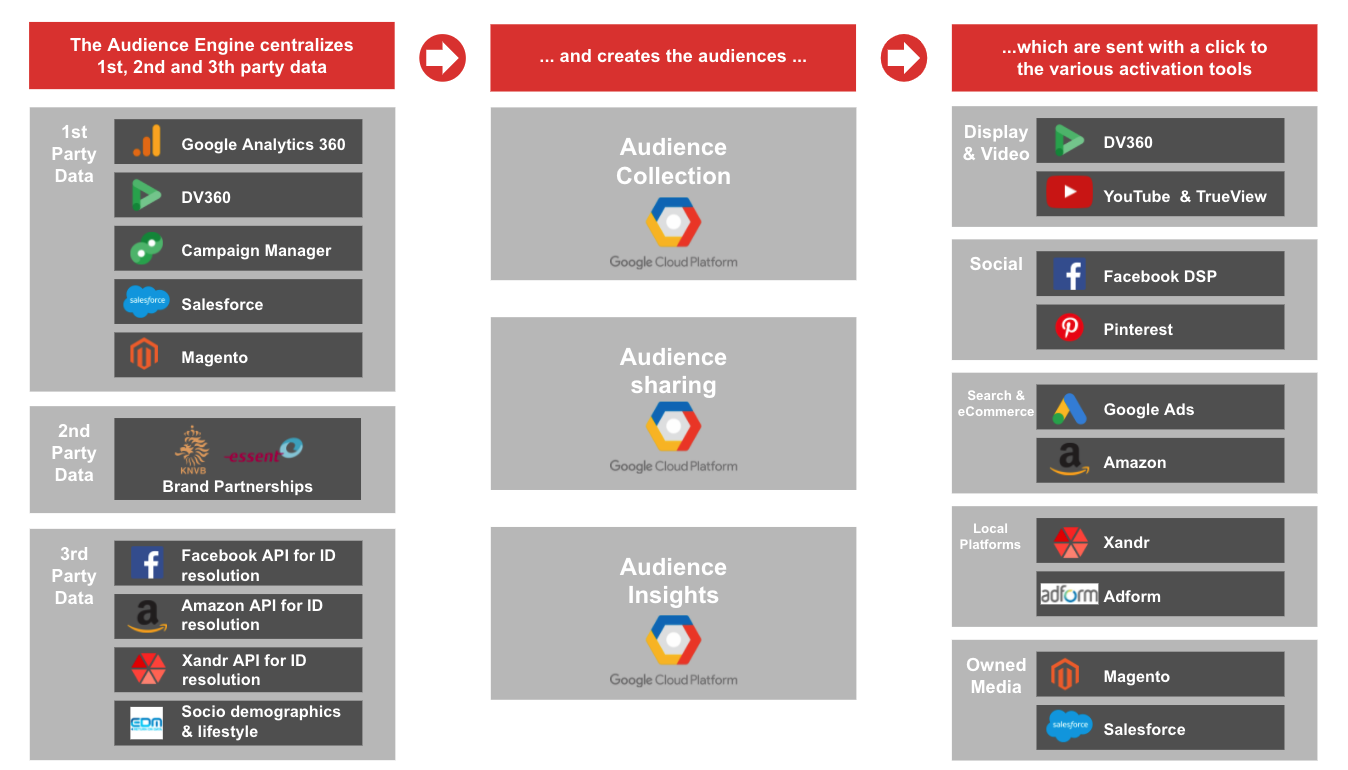 Conclusion
What are the key takeaways to successfully engage in your first party-driven digital transformation journey? Crystalloids' top 4 recommendations:
Define a data strategy to own and expand your first-party data (digital assets, data quality, data governance)
Define a long list of use cases and prioritize based upon uplift gains, ease of implementation with the help of a partner who is experienced in what works and what doesn't
Design a

CDP on Google Cloud

yourself with help of a specialized Marketing Analytics partner. In most cases we see a packaged / off the shelf CDP is not the (only) solution because you need to be able to tailor to your situation in a

flexible and cost-effective manner

because there is no single solution that fits with your current and unknown future requirements.
Next to MLOps, adopt principles such as MarketingOps and DevOps to be able to execute on the CDP by aligning the CDP technology with legal, creative, content, and UX.
---
ABOUT CRYSTALLOIDS
Crystalloids helps companies improve their customer experiences and build marketing technology. Founded in 2006 in the Netherlands, Crystalloids builds crystal-clear solutions that turn customer data into information and knowledge into wisdom. As a leading Google Cloud Partner, Crystalloids combines experience in software development, data science, and marketing, making them one of a kind IT company. Using the Agile approach Crystalloids ensures that use cases show immediate value to their clients and frees their time to focus on decision making and less on programming