Making your life as a marketer easier with MarketingOps
by Meliska Meintjes, on Mar 25, 2022 9:15:19 AM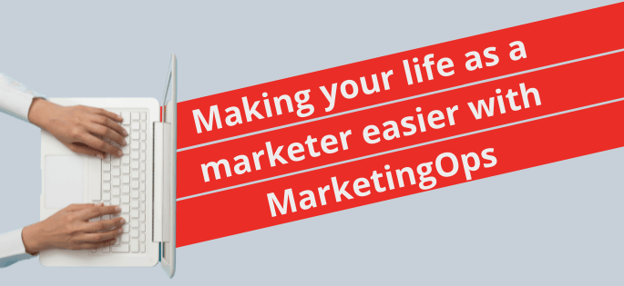 Controversial thought: working with waterfall sucks.
Waterfall leaves too much room for problems to remain unnoticed until the project neared completion, which left large, costly changes as the only solution. It is also not a good model for complex and object-oriented projects or for long, ongoing projects. It is also not suitable for projects where requirements are at a moderate to high risk of changing.
But, that leaves the question; What model works? And where do I find it?
Luckily, I did the exploring for you, and even luckier, I am going to share it with you.
You see, organisation is good but without a team to help pick up the hypothetical boat oar, businesses that depend on technology would have a less-than-seamless experience carrying out their duties.
I wrote this series to illustrate that MarketingOps is the solution to your waterfall and boat steering problems.
You can view the entire series here:
Important Terms
MarketingOps is a way of communicating and collaborating to achieve marketing goals. It is an umbrella term that enables marketing to work efficiently and scale up with quality and consistency by making people, processes, and technology work together in the best possible way.
BigOps is the enormous complexity and quantity of all automation, AI algorithms, processes, and human interaction with systems operating simultaneously. A nice metaphor that I like to describe would be: If Big Data is a data lake, BigOps is about an interactive water park.
An agile organization is where teams from different disciplines work together on projects. And not to forget, it is making our work so much more fun!
What is MarketingOps?
Marketing Operations or MarketingOps is based on Agile Development, DevOps, and Lean Manufacturing. All disciplines/units in a company have to embrace these principles and implement them as part of BigOps.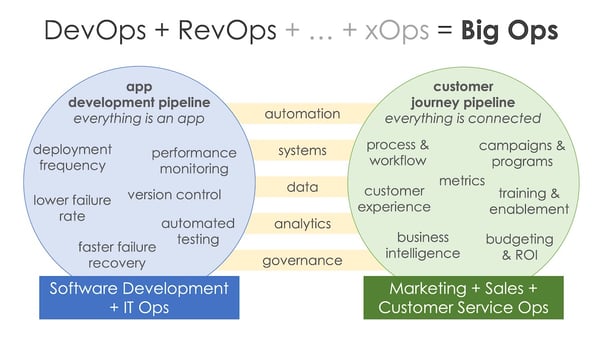 Source: https://chiefmartec.com/2020/12/martech-2030-trend-4-big-data-big-ops/
MarketingOps supports the left brain with the typically heavy marketing function of the right brain. Marketers need to augment their skills with technical and analytical qualities in addition to traditional marketing skills. This combination is essential in today's data- and technology-rich marketing environment, delivering experiences across an increasing number of channels.
MarketingOps combines the flexibility of agile with the sprints of scrum, lean manufacturing and creates value for the customer. It is essential to implement marketing analytics where marketing and technology come together. Teams are better connected when organizing them based on projects rather than job titles such as marketing, sales, IT, legal, and HR. This ensures better cooperation, faster links, clear communication between departments, and automation.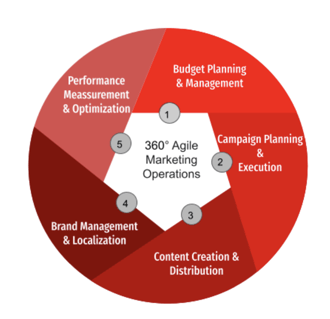 What do you use MarketingOps for?
The continuous and systematic development of marketing products/use cases combines all necessary implementation aspects. These aspects include collaboration with other company disciplines, such as IT, customer service, data science, shop design, e-commerce, and legal. This depends on the marketing plan and the user stories on the backlog that need development. MarketingOPS ensures that everyone works efficiently and effectively towards a common goal. It combines development and execution. This means that monitoring/maintenance of the delivered product is also part of the job. The team that develops can also be responsible for production.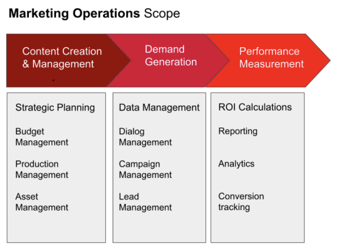 Why is MarketingOps important?
The primary reason why marketing operations are essential is that a business can achieve tremendous success by improving efficiency and consistency. This can be done by automating and integrating processes, which will boost the efficiency of the entire marketing department.
MarketingOps also has a close connection to DataOps, DevOps, and MLOps as machine learning and AI can help to make marketing processes more efficient. And with things changing at lightning speed and upscaling and downscaling are increasingly important, an agile organization gets ahead of its competitors.
The advantage of MarketingOps
Many companies work with a waterfall principle of marketing products: all input is collected, after which they spend a significant amount of time working on that principle. It is then presented to the customer, moving on to the next project.
Working with multiple disciplines in one team results in teams making adjustments and testing whether everything is achievable quickly. As a result, you do not work on separate projects but continuously and systematically develop marketing products.
MarketingOps takes care of a streamlined collaboration in which the plan is constantly updated based on advancing insight, data, and performance test refinement. The team also remains jointly responsible for it.
In addition, the implementation of MarketingOps results in more mutual coordination and responsibility within the team. It also increases collaboration and interaction between the teams, the staff's involvement, and fun at work. Staff is more actively informed of each other's work and learn new things. This will show through in the result of your project.
The pitfalls of MarketingOps
Without good communication, the chance is good that team members will wait before acting.
Tip: To avoid this, spend some time discussing who works on what and where the decision-making lies; the team's responsibilities must be crystal clear.
When implementing MarketingOps, the teams become fluid and share joint responsibility. This sounds fantastic, but without good communication, the chance is good that team members will wait before acting and slow down your marketing efforts.
Tip: do not forget to regularly check-in: fifteen minutes is enough at the start of the day. That way, you know where the others are and how you can help each other. Listen to mistakes that others have made and share experiences. It will further streamline the process as someone else might have already solved the problem you are dealing with.
Summary
Marketing Operations is a broad phrase that refers to the operation of the marketing organization, including people, processes, and technology, that allows marketers to run effectively and develop with performance and reliability.
The primary reason why MarketingOps is essential is that a business can achieve tremendous success by improving efficiency and consistency. This can be done by automating and integrating processes, which will boost the efficiency of the entire marketing department.
I hope that I have now thoroughly convinced you to start implementing MarketingOps in your company. Don't worry, because I won't just leave you hanging.
Next time I will be discussing 'who' you need in your MarketingOps team and 'how' you can start implementing MarketingOps in your company.
---
ABOUT CRYSTALLOIDS
Crystalloids helps companies improve their customer experiences and build marketing technology. Founded in 2006 in the Netherlands, Crystalloids creates crystal-clear solutions that turn customer data into information and knowledge into wisdom. As a leading Google Cloud Partner, Crystalloids combines experience in software development, data science, and marketing, making them one of a kind IT company. Using the Agile approach, Crystalloids ensures that use cases show immediate value to their clients and make their job focus more on decision making and less on programming.