Top 8 announcements from Google Cloud Next 2019
by Veronika Schipper, on Apr 16, 2019 3:28:12 PM
Google Cloud Next 2019 in San Francisco introduced lots of innovation in the area of data management, smart analytics and productivity. CEO Sundar Pichai kicked off the Day one announcing their hybrid cloud offering Anthos, a unique single platform for multi or hybrid cloud development.
Out of all many announcements that came out of the Google Cloud Next event we have selected eight to zoom in a bit more. If you want to read the full summary you can find them here.
1. Anthos (Cloud Services Platform)
"Cloud is too hard today, and it is our job to make is simpler, through easier policy management, through consistent APIs, through open source software that works where you need it. And that's the guiding principle between the cloud services platform to manage containers and services both on-premise and on GCP," said Urs Hölzle, Senior VP technical infrastructure.

Google announced the final Cloud Services Platform product called Anthos which Hölzle believes is the future of the cloud. "Anthos is a single platform that lets you develop, secure, release, monitor, operate, debug your services," he continues. It has all the important management and tooling functionalities to "allow customers to have a unified experience when they consume the services of independent software vendors." It is now generally available on Google Kubernetes Engine (GKE) and GKE On-Prem.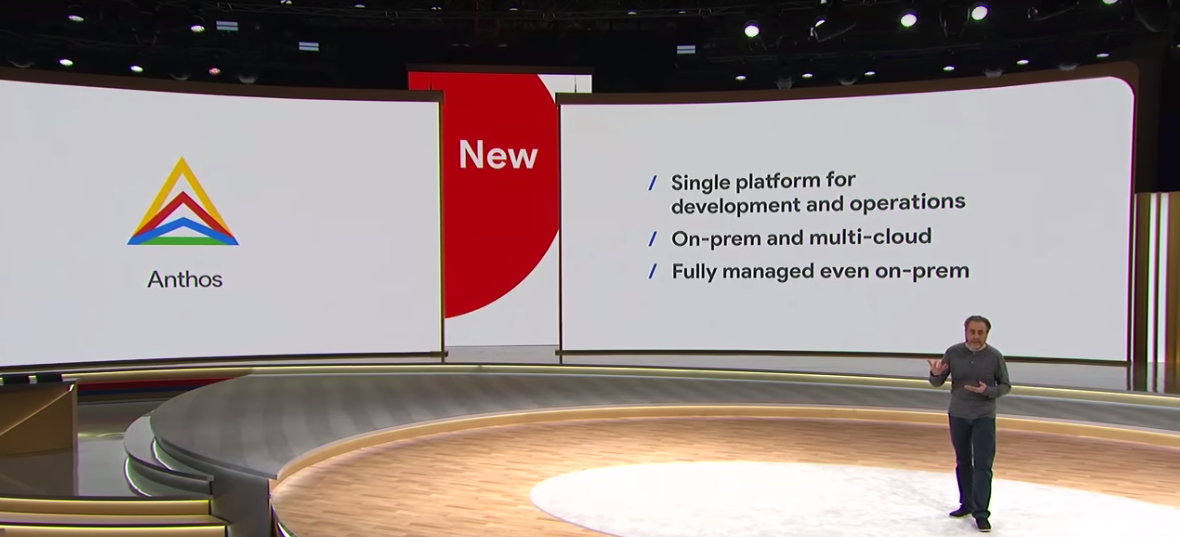 2. G Suite Updates:
Google Assistant is now connected to Calendar to help you stay on top of your agenda (beta)
Google Voice helps business to receive and make calls using one number on any device, anywhere. It can also transcribe voicemails and block spam calls with the help of Google AI. (generally available)
Google Search for third partiers (like SalesForce) can help employees search - and find - digital assets and people in their company (generally available for eligible customers)
Office editing in Google Docs, Sheets and Slides lets you work on Office files straight from G Suite without having to worry about converting file types (generally available)
3. BigQuery BI Engine
This BigQuery memory service allows users to analyse large and complex sets of data interactively with sub-second query response time and with high concurrency. BigQuery BI Engine seamlessly integrates with familiar tools like Data Studio, Looker and Sheets to accelerate data exploration and analysis. (beta)
4. Google Cloud Data Fusion
It is a fully managed and cloud-native data integration service that helps users efficiently develop code-free ETL/ELT data pipelines. It comes with a user-friendly interface so that you can focus on insights and action and less on coding. (beta)
5. Cloud SQL and Managed SQL Server
Google is expanding its SQL, fully managed relational database server, to Microsoft Windows ecosystem and allowing the full support of Microsoft SQL. Google will also be extending Anthos for hybrid deployments to Microsoft environments.
6. Managed Service for Microsoft Active Directory (AD)
Managed AD on Google Cloud Platform enables you to manage your cloud-based AD-dependent workloads, automate AD server maintenance and security configuration, and extend your on-premises AD domain to the cloud. This technology will make the cloud migrations significantly easier and hybrid deployments much more secure. (coming soon)
7. Google Cloud AI Platform
AI platform helps data scientists or machine learning developers to prepare, build and manage projects via the same shared interface quickly and cost-effectively. The integrated tools help you build and run your own machine learning applications.
8. Privacy Commitment
On day two, Google Cloud's CEO, Thomas Kurian, spoke to the issue of data privacy in his keynote that Google Cloud takes extremely seriously.

"Your data is your data and no one else's. Your AI models are your AI models and no one else's. No one at Google will access your data without your permission. We do not have a back door to allow any agency to access your data without your permission. You can encrypt the data at rest or in transit into our cloud. You can use your own encryption keys to encrypt the data."

"If you want Google to help you access that data for a support purpose, we will stream in near real-time the logs of every operation our people are doing to help you with the support request. No other cloud provider provides you with these facilities."

Conclusion
Google announced lots of new products and innovative technologies, some of which use artificial intelligence, some focus on improving collaboration between clouds and some address containerisation. There is such a wide range of products that it can become difficult for an average company to know what to do with them. Having the expertise and people to be able to make good use of them can be a blocking factor.

At Crystalloids, we work with Google Cloud products daily, we have the knowledge and expertise in what we do, and we can help you with every step of your data-driven journey.
Source images: Google
ABOUT CRYSTALLOIDS
Crystalloids helps companies improve their customer experiences and build marketing technology. Founded in 2006 in the Netherlands, Crystalloids builds crystal-clear solutions that turn customer data into information and knowledge into wisdom. As a leading Google Cloud Partner, Crystalloids combines experience in software development, data science, and marketing making them one of a kind IT company. Using the Agile approach Crystalloids ensures that use cases show immediate value to their clients and make their job focus more on decision making and less on programming.
For more information, please visit www.crystalloids.com or follow us on LinkedIn.