Introducing new hires developer Martin and DevOps engineer Francesco
by Eva van Kempen, on Oct 26, 2020 3:06:17 PM
Martin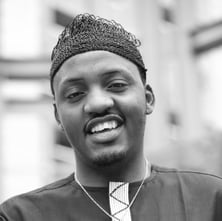 Starting in March 2020, Martin joined the Crystalloids team as an intern developer.
In his internship Martin has proven to be a skilled developer and he has joined our team as a fulltime employee in October 2020. We are excited to have him on board!
What's your story?
I was born in a small town, Baleng, in Cameroon. I have a bachelor's degree in mathematics and computer science applied to finance. During my internship in the final year, I have developed my first application for the management of an insurance brokerage company. The app was about using data to make predictions in the client portfolio. After my graduation, I was hired as a data analyst at this company. While working there, I've learned more about big data and decided to do a master of big data in Tunisia in 2018.
In november 2019, Crystalloids offered me a 6 month internship on an interesting project that combined both data sciences, data engineering and software development. With the successful completion of this internship, I have graduated and received my Master degree. Currently I am employed as a developer at Crystalloids and expanding my knowledge.
I like to discover new places and countries. I like to travel, especially to Africa. I also enjoy spending time with my two younger sisters.
Why did you choose Crystalloids, and what is your impression so far?
Crystalloids is a great and professional company with a young team.
It's like a new school, because I learn every day from my highly skilled colleagues. It feels like a family, everyone checking in with me about my progress on projects and my social development. I find this job very fascinating and it gives me the opportunity to expand my professional experience. For me this is the place to be!
What about Google Cloud technology?
In a nutshell, I like the fact that Google technologies are easy to use.
Francesco
Our technical team keeps growing. Francesco joined Crystalloids in October 2020 as a DevOPS engineer. Francesco is bringing lots of technical knowledge, years of experience and cultural diversity to the team. Read about his background here.
What is your story?
I am originally from Bologna in Italy and I moved to the Netherlands about 13 years ago. Since I was a kid I had a passion for computers and Information Technology. I started very young with the Commodore 64 and I had a real breakthrough when my father gave me, as a gift, an Apple IIc in 1984 when I was only 9 years old.
I have graduated at the faculty of law of the University of Bologna in Rights of Information Technology. During my studies, I have collaborated with one of my professors at the University and I performed forensic investigations for the tribunal. I also collaborated with the department of Statistics and Economics of the University of Bologna, where I developed a web interface and a system to import, evaluate and analyze raw data coming from the European Patent Office.
After graduation I worked for different companies in Italy as a system engineer and in 2008 I moved to the Netherlands. Since 2009 I have worked for several different companies in Amsterdam as a system engineer and ultimately as a DevOps engineer.
I have a little daughter called Sibille, who was born in the Netherlands, who is now 10 years old and she is the real joy of my life.
In my free time I like to spend quality time with my family and cook for my friends.
Why did you choose Crystalloids, and what is your
impression so far?
Crystalloids looked like the perfect opportunity to extend my knowledge to the e-commerce and data analysis world, and to use my experience and skills to contribute in building better, cheaper and more efficient solutions for the customers.
What about Google Cloud technology?
Cloud computing has really changed the IT sector forever. It has made, de facto, obsolete many layers of the traditional system engineering and administration. Google is a world leader in cloud computing and new features and components are continuously released at an impressive rate. I believe it is a fascinating, extremely powerful, and very flexible platform to work on.
We are always looking to meet new talents! Discover our current job openings or send an open application to recruitment@crystalloids.com
---
ABOUT CRYSTALLOIDS
Crystalloids helps companies improve their customer experiences and build marketing technology. Founded in 2006 in the Netherlands, Crystalloids builds crystal-clear solutions that turn customer data into information and knowledge into wisdom. As a leading Google Cloud Partner, Crystalloids combines experience in software development, data science, and marketing, making them one of a kind IT company. Using the Agile approach Crystalloids ensures that use cases show immediate value to their clients and frees their time to focus on decision making and less on programming.