How to turn data insights into actions using Google Cloud and Looker
by Jan Hendrik Fleury, on Nov 28, 2019 3:36:20 PM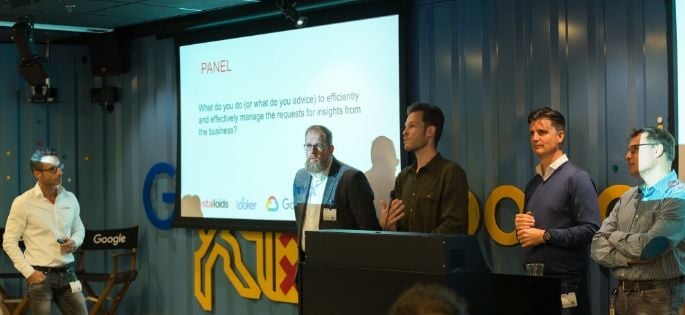 To become data-driven, it is imperative to distribute information across all working teams to gain a competitive advantage. The more people with diverse expertise and ability to access the data quickly and easily, the more they can identify and take action on critical business insights.
On 26 November Google, Travix, Looker and Crystalloids shared their vision and experiences on turning insights into actions.
Now it's time!
Jan Hendrik Fleury from Crystalloids dived into the pros and cons of democratising insights. A successful data democratisation should follow this framework: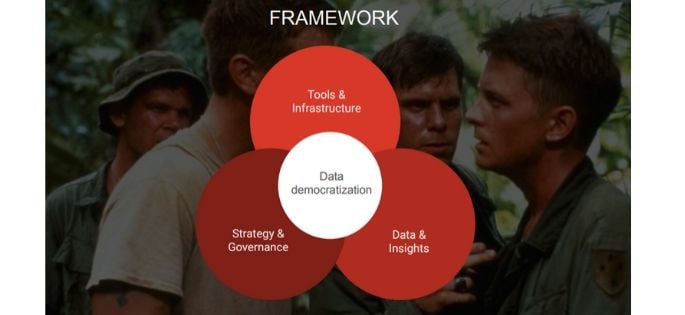 The technology is available to every organisation from start-ups to enterprises thanks to the rise of serverless native cloud computing. The 'pay as you go', flat-fee options that Google Cloud is offering and the pay-per-user fee of data platforms such as Looker make data democratisation more accessible and affordable.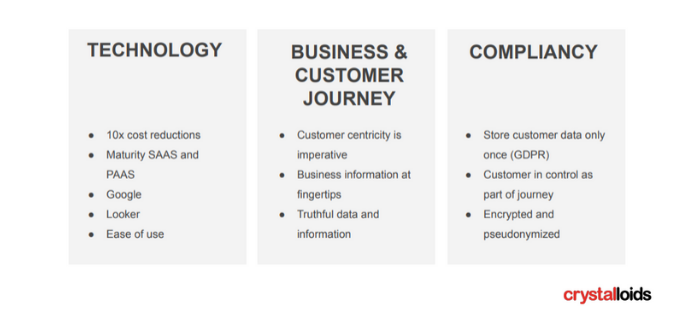 Besides, most companies are thriving to be customer-centric since the consumer is curious, demanding and impatient. Another driver is privacy and security compliance that is assured by Looker, Google and the way Crystalloids engineers the technology.
Crystalloids implements Customer Data Platform functionalities on Google Cloud to deliver you the insights and integrations you need to support both analytics and real-time transactions. Looker can be put virtually on top of Google's performant SQL data warehouse BigQuery as an interface for dashboarding and sharing actions.
Unlock real-time business insights with Google BigQuery
Peter Bavinck, a sales engineer at Google, highlights the six tenets of BigQuery as a modern data warehouse.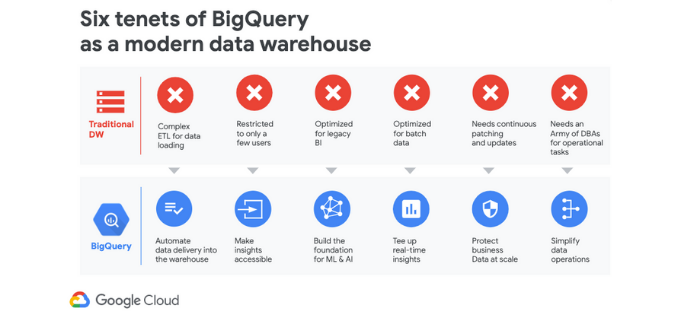 Just a few of the many highlights that distinguish Big Query from the rest:
Automated data transfer - Use federated query to query across any Google service such as Google Sheets, Google Drive, Google Cloud Storage or Cloud BigTable without having to import the data into BigQuery.

Make insights accessible - Create read-only shared datasets users, both internal and external, can query without risk of changing.
Make query results accessible for anyone through familiar tools that don't require them to write any code such as Google Sheets, Tableau, Qlik or Google Data Studio.
Laying the foundation for AI: Bring artificial intelligence capabilities to the data without replicating or moving data into separate storage, clean it or manage it separately.
BigQuery ML to build and train machine learning models with simple SQL
Protect business data at scale - Data Catalog is a fully managed and scalable metadata management service that empowers organisations to quickly discover, manage and understand all their data assets in Google Cloud, including in BigQuery. Data Catalog makes data inside BigQuery discoverable for further analysis.
Eliminate the work of provisioning and maintaining data warehousing infrastructure using Google's fully managed and globally available network.
Dynamically meet changing business needs with Google's serverless infrastructure that automatically scales every aspect of your data warehouse including the data pipeline, ETL, Pub/Sub, Dataflow, data storage, data analytics and more.
An introduction to Looker
Looker is much more than a best in the class BI platform; it is truly a data platform. Paul Goddard explains how Looker is driving a wave of change in the business intelligence industry. The platform enables everyone in the company to ask and answer any questions, given they have permission to do so.
For example, you can integrate data into your daily workflow, such as in Salesforce, and set up alerts when a specific KPI has been reached. You can also automate processes, such as pausing an ad campaign, through a Looker API. The data platform allows you to make you very own data applications and it can be can on top of any performant SQL database.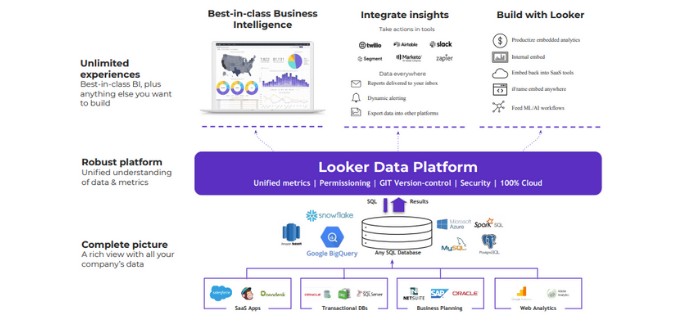 All the data is in one place; it's always fresh and up-to-date. You may transform the data after it is in the database, eliminating much of the heavy lifting of traditional ETL's. You have full GIT version control and a wide granularity in permissions up to row and column level.
Looker had already reached over 2.000 clients. Explore how this cutting edge platform may solve your data democratising requirements together with Crystalloids, the implementation partner in the Benelux.
Democratising data, from on-premise to cloud-based data stack
Travix is a leading online travel company, in the Netherlands known by Cheaptickets.nl and Vliegwinkel.nl. Over the globe, Travix serves over 5.000.000 passengers, fills more than 50 airplanes per day and employs 550 people.
Four years ago, Koen Mevissen, principal data engineer, noticed the limits of their on-premise architecture and the high costs of storing, processing and maintenance. The data strategy was to reduce engineering and operational effort, to increase agility. By adopting open source technology they could provide accessible data and analytics and make data-informed decisions.
Travix selected Google Cloud Platform and Looker to drive the transition with the following components over the cloud-based stack: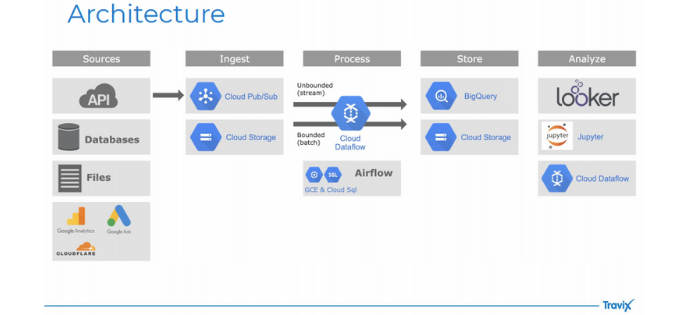 During their data transition journey, Travix experiences some obstacles around modelling decisions, replacing pivot-tables / tabular results and governance. However, the biggest challenge was not adopting the technology but changing the culture and mindset of people.
The transition resulted in:
Standard dashboards serving 200+ users

Data quality validation and monitoring

Cloud cost transparency

Near real-time booking behaviour information

Easily analyse TBs of data

Scaling, agility and the elasticity of computing resources ("plug and play")
Panel Discussion
In the end, there was a panel discussion with the presenters from Google, Looker and Travix and Richard Verhoeff, one of the founders and CEO of Crystalloids. All shared their experiences with data democratisation, GDPR, automating actions and Looker blocks.
You can download the sheets from the presentations via the below link. Note that Google is not sharing the full deck and is sharing a link to BigQuery only. If you would like to know more please contact us.
ABOUT CRYSTALLOIDS
Crystalloids helps companies improve their customer experiences and build marketing technology. Founded in 2006 in the Netherlands, Crystalloids builds crystal-clear solutions that turn customer data into information and knowledge into wisdom. As a leading Google Cloud Partner, Crystalloids combines experience in software development, data science, and marketing making them one of a kind IT company. Using the Agile approach Crystalloids ensures that use cases show immediate value to their clients and make their job focus more on decision making and less on programming.
For more information, please visit www.crystalloids.com or like us on LinkedIn.