Artificial intelligence dominated the Crystalloids Hackathon
by Veronika Schipper, on Sep 5, 2019 1:32:56 PM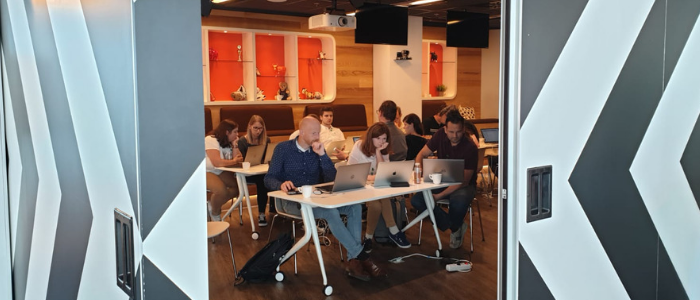 Last week Friday, we organised our first Hackathon hosted by Google at their offices in Amsterdam. During the day, our developers worked on a project of choice, which allowed them to expand their skills, learn from each other and think outside of the box.
It was nice to work on something completely different with colleagues that you don't work with every day," says software developer Dico.
The Hackathon was a great way to challenge Crystalloids tech minds to use Google Cloud products in a fun way. And they did. The teams showed lots of creativity to solve real business challenges.
Two of them worked with Cloud Vision API simultaneously to investigate image features (data labels) and their correlation with relevant business KPIs.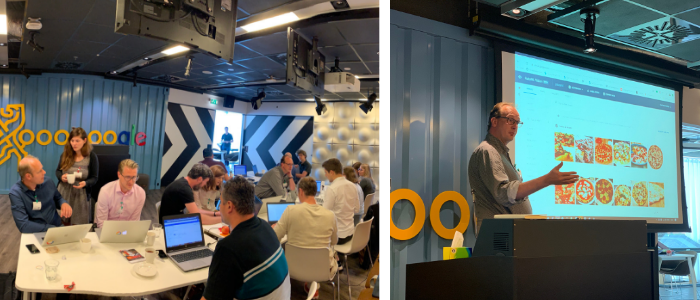 The idea was to build a prediction model that can tell us what ingredients there are on a pizza. Using a set of pizza images, we applied Vision API to see if we can get details on the ingredients. Next, we build a prediction model using AutoML and own labelling and tried to get the same result. Our model got us better and more precise results" explains Remco, Crystalloids senior software developer and the initiator of this idea.
Artificial intelligence in practice
Artificial intelligence and machine learning were popular topics during our Hackathon. And no wonder, Google Cloud offers many innovative products to make it easy for developers to add sight, language, conversation, and structured data to their applications.
To built a prediction model of how much score will a cricket player make in the upcoming game using cricket players data, was another Hackathon theme led by Shahid, Crystalloids senior software developer.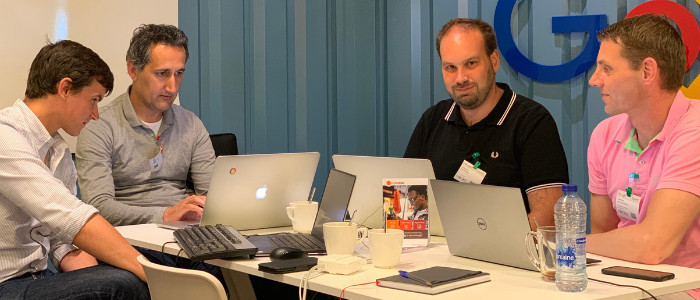 We worked with alternative datasets and tried a few products such as AI platform and AutoML Tables. We found out that AutoML Tables are easy to work with and using it saved us 3-4 days compared to other tools.

Having worked on this project helped us understand how much effort it takes to get this kind of job done. Google Cloud offers many great tools to build an ML model fast but what takes longest is the actual data preparation," Shahid summarises.
Another team's idea was to apply Google speech recognition to analyse short transcripts from outbound sales call in order to classify the conversation. One day might not have been enough to complete this assignment, but it was a great start to build upon in the future.
The winners of the Hackathon
At the end of the Hackathon, the developers had a chance to win a prize. After having presented their project, each team voted for the winner. Collectively, Beata's team impressed the most, taking home a nice gift.
We wanted to test the newly announced Google Cloud Data Fusion product to integrate data sets from two different clouds (GCP and AWS) for analysis. One dataset showed the type of Google related questions that are being asked on Stackoverflow, and another dataset showed the votes to recognise the popular subjects. Integrating these two datasets shows Google, which popular themes are missing answers in their technical documentation.

We also looked at the type of people that gained most votes (or likes) on Stackoverflow for the answers they provided. Those giving great answers were classified as potential recruitment candidates for Google." explains software developer, Beata.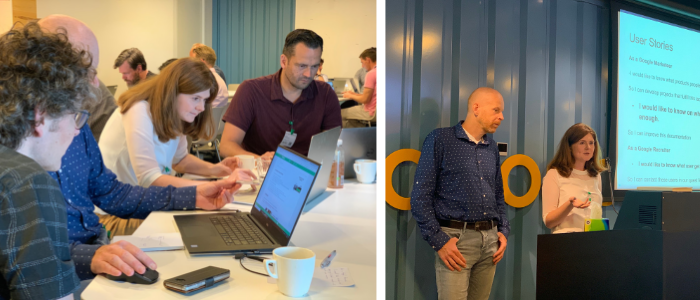 "What we did could have been done with other services, too (using Data Flow and BigQuery), but now we had the time to explore Cloud Fusion without a code, which was great," shares Jan, a data scientist from Beata's team.
What's next
A lot of cool stuff is happening at Crystalloids. After the Hackathon, we're taking part in events focused making better use of data together with Google Cloud. Get the latest information about our events by joining our monthly newsletter ⇒
ABOUT CRYSTALLOIDS
Crystalloids helps companies improve their customer experiences and build marketing technology. Founded in 2006 in the Netherlands, Crystalloids builds crystal-clear solutions that turn customer data into information and knowledge into wisdom. As a leading Google Cloud Partner, Crystalloids combines experience in software development, data science and marketing making them one of a kind IT company. Using the Agile approach Crystalloids ensures that use cases show immediate value to their clients and make their job focus more on decision making and less on programming.
For more information, please visit www.crystalloids.com or follow us on LinkedIN