Meet Marc: Crystalloids Lead Software Developer (and the longest-serving employee)
by Veronika Schipper, on Jul 15, 2019 9:25:14 AM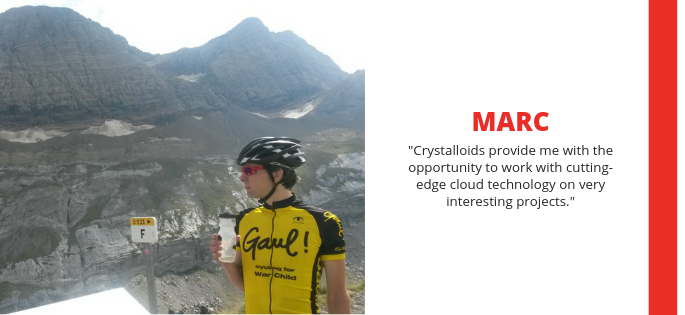 Marc has been working with Crystalloids for almost 13 years, which makes him the longest (and the first) Crystalloids' employee ever. We talked to him about his background, interest in technology and most importantly, what made him stay at the company for so many years!
Born to Dutch parents, Marc and his twin brother spent his early years in Germany. At the age of five, the whole family moved back to Amsterdam, where he grew up and lived ever since.
Marc was fascinated by technology from his early childhood, which led him to pursue a master degree in Computer Science. He was interested in artificial intelligence, but during his studies he realised that he enjoys theoretical computer science more as it involves lots of mathematics.
After his studies, he started a career as a scientific programmer to build systems with agent technology. That was where he first met Quintus, one of the Crystalloids' founders. Having transitioned to a technical consultant role, Marc focused mostly on integrations. When the company got acquired by a large American corporation and became more of a system integrator, he felt it was time for him to look for a new challenge.
Joining Crystalloids
His next steps led to a vendor of analytical CRM solutions where he worked as a technical consultant and data scientist for almost ten years. It was in 2006 when Crystalloids was founded, and Marc was offered to join the company as the first employee. And so he moved from product-focused implementations to bringing companies further using AI and improving their operational processes.
Marc at Crystalloids in 2013
At that time, Crystalloids primarily specialised in marketing automation and fraud detection, mostly used in insurance companies. As the company grew, the projects and technology evolved, and Marc got to work on many exciting assignments.
To name a few, he helped a leading Dutch retail brand to build a new loyalty system by designing the solution architecture. For a Dutch travellers' association, he managed the migration from on-premise to new customer intelligence and marketing solution in the cloud.
AWS or Google Cloud Platform?
Having worked with and being certified in both AWS and Google Cloud Platform, Marc talks about his experience with these two cloud technologies:
Both cloud platforms offer very similar services; the differences are in the details. For example, Google BigQuery is a unique, cost-efficient and easier to use service than AWS Redshift or Athena. And if you want to spin up a Spark cluster, it takes only a few minutes in the Google Cloud Platform and around 10 minutes in AWS. On the other hand, AWS has some services that offer a bit more flexibility, like the AWS Web Application Firewall compared to Google's Cloud Armor. So when it comes to it, it's all in the details.
Nowadays, Marc works with key customers of Crystalloids as a lead solution architect, building data solutions in the Google Cloud. And what does he enjoy most about Crystalloids? "It's the nice projects I get to work on," he concludes.
Are you looking for a new career challenge where you could utilize your coding skills and passion for new technologies? We are always open to skilled professionals. Feel free to contact us at jobs@crystalloids.com or see our vacancies here:
ABOUT CRYSTALLOIDS
Crystalloids helps companies improve their customer experiences and build marketing technology. Founded in 2006 in the Netherlands, Crystalloids builds crystal-clear solutions that turn customer data into information and knowledge into wisdom. As a leading Google Cloud Partner, Crystalloids combines experience in software development, data science, and marketing making them one of a kind IT company. Using the Agile approach Crystalloids ensures that use cases show immediate value to their clients and make their job focus more on decision making and less on programming.