How Google uses artificial intelligence to transform the travel industry
by Veronika Schipper, on Apr 5, 2019 2:30:01 PM
Why turning to an online travel agency when you can book your next trip right on Google? With the recent redesign of their hotel and flights booking tool, Google is critically disrupting the online travel industry. Thanks to artificial intelligence, the search giant can predict flight delays, find the best valued flights or suggest excellent hotel deals. Let's have a closer look at how these changes are transforming the travel business.
Engaging travel experiences are entering the new era as people rely on technology to help better understand a destination or accommodation before they book. Artificial intelligence, being behind all the digital technology, is reshaping the way we research, book and experience travel. It helps us, humans, not only find the best destination, price or deal but most importantly, to make sure that we spent our time efficiently and take the stress out of the booking process.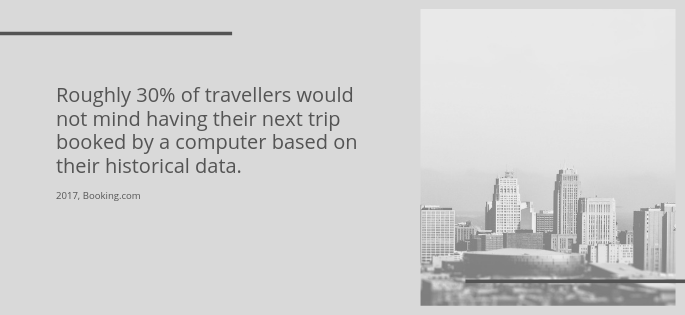 Travel is a massive market with international tourist arrivals reaching 1.19 billion in 2015 and expected to grow by more than 50% by 2030. The industry experiences substantial growth every year thanks to the improvement of living conditions over the decades and the innovations in technology, such as AI or machine learning.
Why personalisation is the keyword for 2019
Over the past year, a new challenge occurred for many businesses acting within the travel industry. People having access to so many information across internet causes that the abandonment booking rate recently hit the highest numbers. European customers are more cautious about finalising their online booking; in fact, they spend significantly more time researching their trip options before committing to purchase than ever before.

For the online travel industry, it means that attracting consumers is not the biggest concern anymore. What is worrying is having the visitors completing their booking after spending so much time researching. So how can technology and artificial intelligence, specifically, make a difference?

Not only for travel brands but all consumer brands it's all about personalisation and providing those unique experiences and engagement that customers care about. As customers' data is being collected from different sources, businesses can use them for personalised retargeting ads using content specific to the traveller's intent.

Google becoming a thread to booking platforms
Google is an active evangelist of personalisation which is reflected in lots of their product features. According to Google, people are not just looking for faster access to information; they want customised information. Besides, 36% of consumers are willing to pay more for such personalised experiences.

Over the past months, it has become more evident that Google wants to dominate the online travel booking industry by harnessing the power of artificial intelligence. Following their mission statement "to organise the world's information and make it universally accessible and useful," they have been gradually developing their search and booking tools in the travel space, becoming a severe threat to its rivals in the online booking industry.

Google wants a closer relationship with consumers who turn to search to find things that are personal to them. With their new tools they have grown into a one-stop shop when it comes to booking the next vacation of flight where any information including location, reviews or pictures can be found.
Google Flights
Launched around eight years ago, Google Flights helps you find the best flight deal. Since price is considered the most important decision factor when people look for a flight, this is being reflected in their search results. The best deal, however, reveals the combination of the right flight at a reasonable price considering various conditions such as stopover, flight time or airline.
Using AI, Google's smart booking systems provides the best value by suggesting departing a day or two earlier to get significant price savings, or making a stopover in a particular destination and catching a cheaper flight.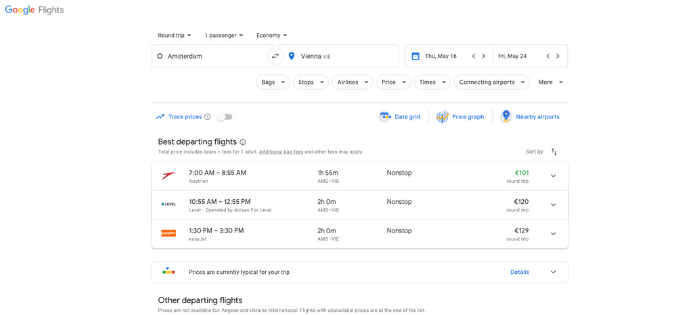 This tool received several feature upgrades over time with the latest one happening last year when they added two new improvements. AI-powered predictions for flight delays was the first one. Thanks to the combination of historical data and use of a machine learning algorithm, Google can now inform the consumers when a flight is delayed even before the airlines announces it.

The second one relates to cheaper flights offering. As airline companies worldwide started launching low-cost flights, users lost the visibility of what was or wasn't included in the price, often resulting in surprising limitations that they only learned about at the end of their booking journey or, in the worst case scenario, as they were boarding.
Google Hote
l
Google Hotel is a full destination search site for hotel listings. Similar to Airbnb's interface, it has a clean map view with exact hotel locations and price information. Results can be filtered by selecting "deals". Google uses artificial intelligence to find rates that are much lower than the usual hotel price or the price of the hotels nearby.
The tool is full of content that today's traveller expect, such as ratings, official and guest photos, reviews, room descriptions or maps. When Triptease compared it to Booking.com, there was "almost no visual distinction on Booking.com to suggest your results are filtered. Scrolling past the list of six takes you straight into more suggested properties. It may be subjective, but the Google experience certainly gives a stronger impression of actually producing results tailored to the user."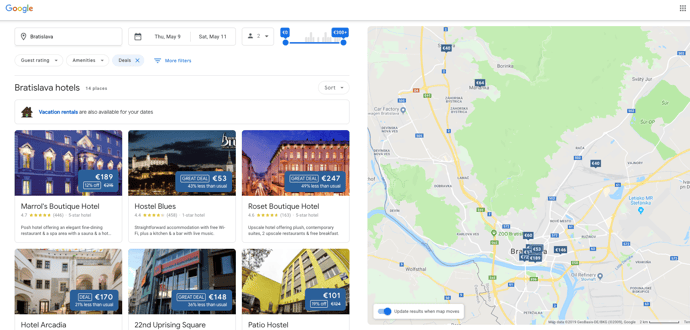 Google applies its own metasearch and booking feature to determine which hotels are displayed; nevertheless, businesses can still use paid ads to appear higher in the search. By selecting a hotel, booking can be made directly through Google by entering your credit card information, or you can be redirected to another booking page to complete your action.

The endless choice and ability to compare hotels and refine the search down to a shortlist of possible options in a user-friendly interface is what gives Google a significant competitive advantage.
Conclusion
Artificial intelligence impacts many aspects of travel. From analysing trends, optimising room rates or personalising offers, no doubt this technology is disrupting the industry worldwide. More and smarter assistants, chatbots or other automated tools appear to help us with every step of our customer journey.
Over the last decade, online booking platforms have developed massively, and it's clear that only the best ones can survive. With Google introducing their hotel search platform where all-rounded information is being gathered, consumers can easily make an educated decision. How this will affect online travel is still to be found out.
Curious to see how we helped ACSI, a leading travel specialist in camping, improve their online advertising model by delivering a user-friendly interface where queries can be run in seconds with minimum technical maintenance required?
ABOUT CRYSTALLOIDS
Crystalloids helps companies improve their customer experiences and build marketing technology. Founded in 2006 in the Netherlands, Crystalloids builds crystal-clear solutions that turn customer data into information and knowledge into wisdom. As a leading Google Cloud Partner, Crystalloids combines experience in software development, data science, and marketing making them one of a kind IT company. Using the Agile approach Crystalloids ensures that use cases show immediate value to their clients and make their job focus more on decision making and less on programming.
For more information, please visit www.crystalloids.com or follow us on LinkedIn.