8 trends in Business Intelligence that you don't want to miss.
by Polina Salimyanova on May 16, 2023 1:51:01 PM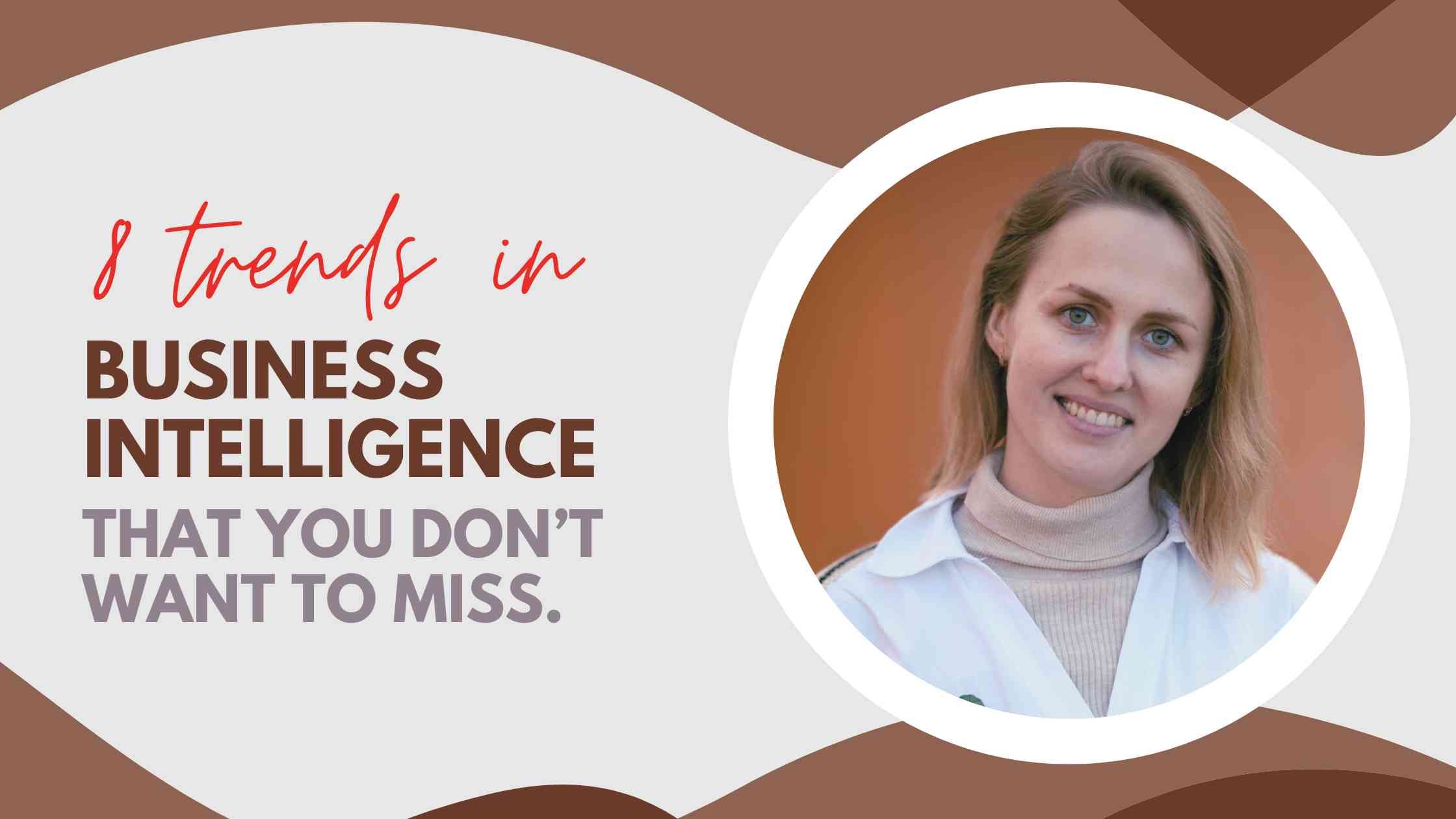 In today's fast-paced business landscape, staying ahead of the competition requires businesses to embrace the transformative trends in business intelligence. From data centralization and user-guided navigation to the integration of artificial intelligence and the establishment of a data-driven culture, these trends have revolutionized the way organizations operate and make data-driven decisions.
There is nothing worse for an established business trying to stay ahead of the flexible digital competition, than being slow because of a cumbersome underlying system. This is the reality for many companies whose internal processes cannot meet the diverse and complex needs of the 21st century.
Recent developments in business intelligence solutions, offer a new approach to looking at data insights architectures that will help reach the previously considered impossible goals. I know that many businesses are looking forward to find out how. So, let's explore the eight trends in business intelligence that you don't want to miss.
The 8 trends in Business intelligence that are changing your business for the better
1. Data centralisation / main entry point for the business users
Are you familiar with this situation? Employees use a significant number of tools on a daily basis, potentially even with multiple accounts, leading to constant switching between them. Simultaneously, instructions, dictionaries, and guidelines reside in different data sources, metric descriptions are found in local documents, and processes are primarily stored in the minds of long-term employees.
In such a dynamic scenario, how can new employees be effectively onboarded to handle all the content and ensure they don't miss any vital information while performing their daily tasks? Believe it or not, a solution exists!
With a centralised BI strategy, an ever-evolving trend in business intelligence, the organisation creates a single, consistent set of business data that facilitates an up-to-date view of information across the entire company.
At Crystalloids, we help our clients to have a single point of contact, a bird's eye view from one tool for the business users, using the data platform Looker. From the moment business users start their journey in Looker, they have all the necessary and supportive information in one place to make quick and well-thought decisions without swapping tools, tabs, or accounts and losing time when the decision should be made now, not in a week.
2. Business users guiding within BI assets
Once you've given your business people a single point of access to reports, dashboards, and accompanying artifacts, it's crucial to recognize the prevailing trends in business intelligence and explore how they enable effective navigation through the myriad opportunities offered by Looker. Ensuring that employees perceive the comprehensive panorama of these opportunities — their nature, utility, and value — is essential for aligning their focus with their daily tasks and unlocking the potential they bring to the organization's routines.
While modern BI tools are equipped with features like boards or navigations to facilitate this process, it's worth noting that not all tools are equally user-friendly or capable of providing a holistic view. Implementing a proper navigation system will yield significant time and effort savings, enabling swift access to the right assets and enabling the delivery of compelling insights at precisely the right moment. By leveraging these trends in business intelligence, organizations can optimize their data-driven decision-making processes and maximize the value extracted from their BI investments.
3. Big volumes of data
Businesses collect data from various sources; in the majority of cases I see, there are tons of sources used to collect the data to support the insights they need. The more you work and focus on business goals, the more data you have.
While each organisation will use different data streams, the challenge of analysing and visualising this data pops up. How not to lose the performance of the report? How to control the business logic and rules from the central point of view? All these questions should be addressed to the BI tool to find the solutions.
Crystalloids has extensive experience in resolving such kinds of challenges and building well-performed and beneficial solutions using Google Cloud ecosystem products and cooking the ideal solutions based on business needs.
4. Mix/mesh of data
Once you have resolved the issue of connecting different data sources and merging them into a central data warehouse, the logical question is how to combine them all to serve the same purpose. The best solution is a semantic layer that can store all the logic without interfering with performance.
A semantic layer is a business representation of data. It offers a unified and consolidated view of data across an organisation. With a semantic layer, different data definitions from different sources can be quickly mapped for a unified, consistent, and single view of data for analytics and other business purposes.
Modern BI tools are equipped for these so-called boards or navigations, keeping up with the latest trends in business intelligence. But not all of them are user-friendly and can bring the broad picture. Proper navigation on board will save you a lot of time and effort in finding the right asset to tell the correct stories at the right moment.
5. Built-in AI use cases
AI is booming the market and has changed our awareness of opportunity. How to implement it into our routine and get value from it? There are many use cases on how you can use ML models in combination with BI to work with marketing departments, activate audiences in marketing tools and ads platforms, and help make forecasts and predictions to make correct business decisions. We have in our portfolio use cases where such models are neutrally integrated into the businesses' daily activities.
6. Custom activation actions
This feature is impressive and incredibly beneficial. Having a tool that empowers you to visualize your data and supports various user groups in the decision-making process, while also offering the convenience of activating your selections and seamlessly transferring them to the appropriate tool with just a single click, truly feels like magic brought to life in the realm of business intelligence. Let's modestly say that such magic is our calling card, which, next to this blog on the latest trends in business intelligence. we will describe in the next series of BI articles.
7. Sharing the data
A business is not built on one element in the business structure; there are always many stakeholders involved - partners, suppliers, employees, and third-party organisations involved. Building communications is not an easy task, but it is so important for the prosperity of a business. How to find a balance between information sharing and access rights?
BI tools and platforms are working hard to make it easy and simple and not require rocket science for the average user. You should be able to share your reports, dashboards, and materials in different formats while ensuring that data is protected from prying eyes. Maintaining a different level of access is no longer even discussed for the presence in the business intelligence tool. Dataset, table, dashboard or report, folder - it all depends on you which level is best for your communication.
8. Setting up the BI data culture to make the company data-driven
The last but not the most minor thing we would like to mention, when discussing trends in business intelligence, is culture. You can create over-the-top dashboards and reports and create many activation use cases, but what's the point if your employees don't accept it and don't learn how to work with it? The mindset should look at the direction of the data-driven approach and not be a foreign body for employees. We do not want to exaggerate, but this is the most challenging part of the whole journey. Fortunately, we have a positive track record of building processes to achieve employee acceptance of new features and tools, and we know ways that work.
Conclusion
These eight trends in business intelligence lead us to the conclusion that now is the right moment to seize the opportunity that modern Business Intelligence technology and best practices are offering to outperform the competition and to put trustworthy and actionable insights at the fingertips of your employees and partners.
No Comments Yet
Let us know what you think