Master first-party data for omni-channel excellence
by Jan Hendrik Fleury on Feb 4, 2022 10:13:55 AM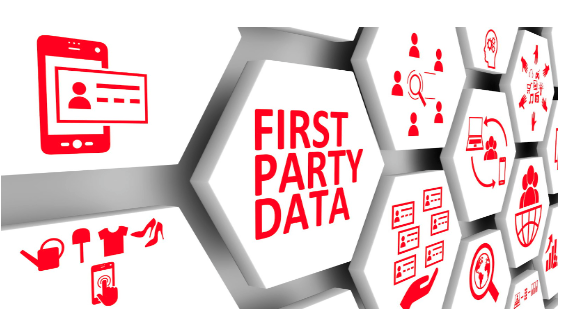 In today's world, companies need to show that their products and services are not only of good quality and offering value for money, they also need to be personally relevant to consumers at any moment of the day. If you want to provide excellent experiences, access to first-party data is required. However, getting access to all relevant first-party data of quality means collecting and using data in the smartest possible way. Let's find out how this can be done and what it brings.
What is first-party data?
First-party data is information about the customers of a company that is collected and owned by that same company. Examples of first-party data may include purchase history, loyalty status, on- and offline behaviour as part of the customer journeys, preferences, and so on. All relevant data coming from multiple sources is linked by establishing a unique identifier for instance and transformed to be able to define and share audiences to the channels.
Beyond a unified customer view, a well-defined and identified list of use cases helps realize better business outcomes to monetize on the data. Some use cases are covered later in this article.
Challenges using first-party data
Web browsers that restrict ad trackers, and next to that stricter privacy laws are making that marketers can't rely on third-party data anymore. This is why they need to fall back on first-party data, collected straight from their customers. However, getting the right strategy and technological infrastructure in place to activate the power of first-party data seems to be a struggle for many companies. Even though most organizations have access to technical capabilities, they lack strategy and execution. Another obstacle to using first-party data is internal silos. Many companies are not leveraging the full capabilities of first-party data in their marketing efforts. Their collections are not integrated and the data ends up in siloed systems and is not made available for broader use. Caution is also an issue. In some companies, the management is afraid that personalized communications could have a negative impact on privacy-sensitive customers.
So how to put first-party data to use?
To achieve business value, there are two tracks; organizational and technical as shown in the image below.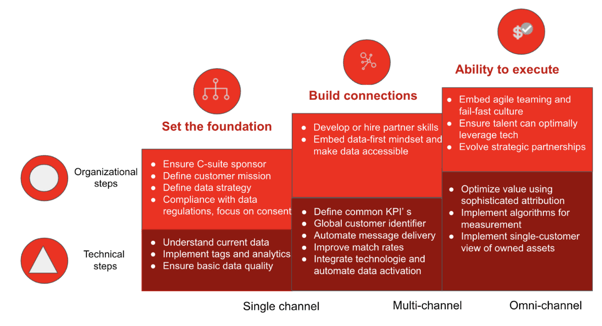 I will dive into some aspects that are being displayed in the image. A first organizational step in getting the most out of your first-party data is a data strategy that supports a broader business objective and to identify the data that you have. A clear data strategy tells how business objectives are supported by organizing data, processes and people. The data strategy is also clear about which data is needed to reach different business goals. It goes without saying that alignment with the IT strategy is essential because data is always related to IT.
A technical step is the collection of the data. Data will be collected, transformed, cleansed, stored and combined from multiple first-party resources into a view that is required to support the selected use cases. Ensuring good-quality data is essential at this stage. The next step is putting the data to work in the stages of the customer journey and making sure that there is a two-way value exchange between company and customer.
The functions of a CDP
Only companies that invest in state-of-the-art automation systems like CDP's are consistently able to link all of their data and use them for automated activation. In this blog I've written you can discover the 3 best practices for designing and implementing a CDP. There are many companies that collect offline interactions such as calls coming from customer service centers, which include utterances of satisfaction, frustration or unresolved problems, but they are not connecting this data to other data sources or use this data to tailor their messages in digital channels. If they would invest in the development of a CDP they would be able to create a 360 customer view and deliver better-tailored messages in all their digital channels resulting in better sales numbers.
First party use cases related to maturity
Use cases may extend beyond marketing to support customer strategy, experience, and service functions. We see that marketers differ in the maturity of their use of first-party data.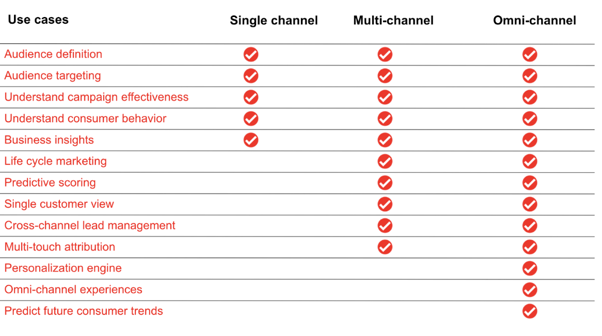 Companies that move up the maturity ladder on their way to become truly omnichannel, are able to manage and deliver personalized customer journeys by:
Combining multiple online, and even offline, data sources and linking these to a global customer identifier
Augmenting existing first-party data with third-party and other data such as advertising cost and sales data
Enhancing their first-party data with predictions from

AI-powered models

that support the different

marketing activation

activities
Using first-party data in CDP
In order to use the full potential of your first-party data, you need Customer Data Platform functionalities. Data is pulled from multiple sources, cleansed and combined to create a customer profile and is accessible to other systems that help you to get insights or make predictions. Below you find an example use case: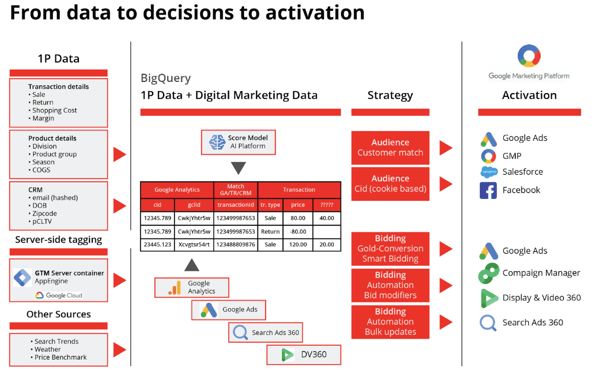 In the image above you can see data coming from different sources. When the first party is collected and normalized, modelling can be applied. Different types of modelling for bidding and audience activation such as conversion models, engagement models and models that predict the customer lifetime value are applied using the Google AI Platform. The sessions are scored and the models are being retrained automatically so different kinds of audience and bidding strategies can be applied.
First-party data might also be used to up-or cross-sell, to predict churn or to predict conversion intent. Customers can be segmented based on frequency and depth of visits and the elapsed time since the last visit. First-party data can also be used in a more advanced way, for example by predicting future consumer trends.
Do you want to become a data-driven company too?
If you feel like your organization is not using the full potential of first-party data and you need advice about data strategy and marketing automation, schedule a meeting with us. Crystalloids is a Google Cloud Platform specialist building headless modular CDP's. We are fond of data architecture and data modelling, and we know a lot about it. If you want to know more about modern, unified data analytics platforms on the Google Cloud Platform you can also download our whitepaper.
---
ABOUT CRYSTALLOIDS
Crystalloids helps companies improve their customer experiences and build marketing technology. Founded in 2006 in the Netherlands, Crystalloids builds crystal-clear solutions that turn customer data into information and knowledge into wisdom. As a leading Google Cloud Partner, Crystalloids combines experience in software development, data science, and marketing, making them one of a kind IT company. Using the Agile approach Crystalloids ensures that use cases show immediate value to their clients and frees their time to focus on decision making and less on programming
No Comments Yet
Let us know what you think