5 examples of how Google Cloud helps saving our planet
by Clemens Niekler, on May 16, 2019 9:46:32 AM
In times of massive climate change, sustainable business is not only important but necessary. That is why we at Crystalloids aim to minimise our ecological footprint as far as possible. Every employee gets an NS travel card to commute to work by train or/and bike. Furthermore, all of our paperwork is done digitally, so no trees have to be cut down. Being a Google Cloud partner underlines our sustainable business approach as Google is implementing several practices to be environmentally friendly.
To start, the multinational based in Mountain View, California covers 100% of its power consumed with renewable energy. Moreover, less energy is being used through Machine Learning, and Google has been working carbon neutral for more than ten years. But how does Google Cloud help to save our planet?
National Geographic
Generally speaking, companies already reduce their digital footprint when they migrate existing applications to GCP. National Geographic helps to raise awareness for our planet and the changes it is undergoing. It aids people to appreciate the beauty of nature through the eyes of adventurers, photographers, columnists and filmmakers.
To improve management and safety of the over 2 million pictures counting collection NatGeo migrated the library to Google Cloud. The two companies also announced a new partnership last year. The goal was set to inspire action by informing customers and decision-makers about the importance to protect 30 per cent of the planet by 2030. To reach that they will be sourcing and generating new data on ecosystems, biodiversity, urban growth, migrations and extreme environments. The collaboration also aims to help responsible people to make better-informed decisions to protect our planet.
Sunpower Corporation
The energy that hits the earth produced by the sun could be used to power the global economy for a whole year. The challenge is to capture the energy as efficiently as possible. Also, every roof is unique and solar panels are therefore hard to place optimally.
Until now the process of outlining the rooftop and identifying any obstructions like chimneys or skylights had to be done manually. So far, this procedure took around 30 minutes per house. At this year's Google Cloud Next Sunpower introduced the new Instant Design Service which is operated on Google Cloud Platform. With the latest technology it is possible to create the home solar design within 60 seconds and therefore 97% faster than before.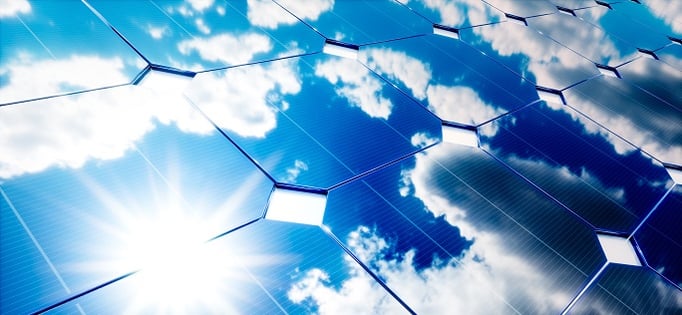 San Mateo County
The Californian County of San Mateo is stretching from San Francisco to Santa Cruz and offers space for almost 900.000 people. As air pollution is a problem in this densely populated area of the world, the County is partnering with Google Cloud and some of its partners to improve the air quality.
The problem encountered was the insufficient number of air quality sensors. Just one sensor located in Redwood City was measuring air pollution. As dangerous pollution can be up to eight times higher from one end of a block to the other, a new solution had to be found. That's why San Mateo County partnered with Geotab and Aclima using BigQuery, BigQuery GIS and Google Cloud Platform.
The two companies use sensor networks and connected vehicles to collect data points that relate to human health and global climate change. Now, thanks to Google Cloud, the County of San Mateo can distribute the insights gathered through hyper-local air sensing on municipal vehicles in real time.
Google Earth
The teams of Google Earth Engine and Google Cloud came together to jointly map the land cover on each 30-meter square of the earth back till 2013. This has never been done in such a way before, and massive amounts of data are created.
Through an end-to-end pipeline, the raw data transforms into rich map information. By doing so, urbanisation, deforestation, water resource changes and cropland views can be tracked and understood what allows them to make better decisions.
To bring these insights to decision-makers in a more direct way the Environmental Insights Explorer was launched last year. It helps to analyse the data and use the information to advance climate action plans.
Circular Economy 2030
SAP and Google Cloud recently introduced the Circular Economy sustainability contest for social entrepreneurs. The corporations partnered to encourage entrepreneurs to work towards the UN Sustainable Development Goals (SDG's).
The applications had to present revenue-generating ideas that use data analysis and Machine Learning to get closer to a circular economy in which consumption and emission are reduced. Five finalists were selected on the Google Cloud Next' 19 from a pool of more than 250 applicants from more than 50 countries. They were assessed upon the four categories original idea, business model, potential impact and technical innovation and stood out.
On May 7 the winner of the Circular Economy 2030 contest was announced. The company Topolytics led by Michael Groves is improving processes in waste management and is making it more efficient and effective environmentally as well as economically. Data analysis and mapping are used to help to work towards a circular economy and the Sustainable Development Goal 12: Responsible Consumption and Production.
What do you think can and should be done to improve our planet using Artificial Intelligence, Machine Learning and Data Analysis? Let us know by leaving a comment and if you want to know more about our work with Google Cloud follow the link.
ABOUT CRYSTALLOIDS
Crystalloids helps companies improve their customer experiences and build marketing technology. Founded in 2006 in the Netherlands, Crystalloids builds crystal-clear solutions that turn customer data into information and knowledge into wisdom. As a leading Google Cloud Partner, Crystalloids combines experience in software development, data science, and marketing making them one of a kind IT company. Using the Agile approach Crystalloids ensures that use cases show immediate value to their clients and make their job focus more on decision making and less on programming.
For more information, please visit www.crystalloids.com or follow us on LinkedIn.