The single constant factor is change: our 10 predictions for 2021
by Jan Hendrik Fleury on Dec 17, 2020 9:03:27 AM
Everything changes doesn't it? I have picked 10 technology and marketing trends to keep your eye on for next year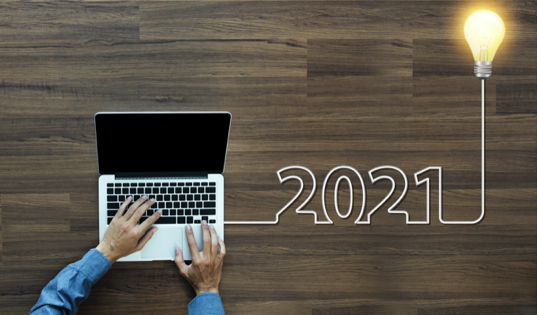 Hyperautomation
Developers growing influence on CIO's agenda
Multi- and hybrid cloud
Security
EU and USA will come to an agreement on sharing data
Investing in damage control in user recognition
The rise of CDP's continues
Use of first party data to steer on audiences
Use of first party data to steer on bidding
Growth of Google Cloud continues to be 45%
Hyperautomation
Hyperautomation is the idea that anything that can be automated in an organisation should be automated. Hyperautomation is driven by organisations having legacy business processes that are not streamlined, creating immensely expensive and extensive issues for organisations. Many organisations are supported by a 'patchwork' of technologies that are not lean, optimised, connected, clean or explicit. At the same time, the acceleration of digital business requires efficiency, speed and democratisation. Organisations that don't focus on efficiency, efficacy and business agility will be left behind.
Developers growing influence on CIO's agenda
Developers will get a bigger say in technology and data strategies within organisations. We see an aggressive 'move to the left' in all sectors. As a result, CIO's will become more dependent on development teams to direct the technical strategy of the organisation. In the past these decisions were being made top-down but that is shifting. Since Google Cloud is a preferred platform for developers due to the simplicity and commitment to open source, Google will benefit most is what I expect.
Multi- and hybrid cloud
Since the cloud is growing aggressively, organisations don't want to put all their eggs in just one basket. They pick which workloads can be best executed in a particular cloud and on premise. This reduces lock-in and monolith architectures. Managing multi- and hybrid cloud was time consuming but that is shifting quickly thanks to the rise of multi-cloud management systems and solutions like Google Cloud Anthos. Anthos is a hybrid and multi-cloud application platform that provides a consistent development and operations experience for cloud and on-premises environments. Anthos ensures a secure and seamless connection between Google Cloud and the other public clouds, so customers can securely run analytics and manage Kubernetes workloads in a fully-managed infrastructure.
Security
Most successful attacks will be from well-known & largely preventable attack vectors.
This prediction proves itself correct year after year. The majority of successful attacks still hinge on exploiting well-known and entirely preventable vulnerabilities. While some of the vulnerabilities may be relatively new, there is usually plenty of time to address them before compromise occurs. If you can't get on top of your vulnerabilities, layer your security so that attackers find themselves without access to privilege when they do infiltrate your network. An exploitable vulnerability is a problem, but considerably less so when it doesn't lead to privileged access.
EU and USA will come to an agreement on sharing data
In 2020, the European Union (EU) court system invalidated the governance for protection provided by the EU-U.S. (United States) 'Privacy Shield' with Schrems II. Prior to the court ruling, the agreement had allowed for the transfer of data containing personally identifiable information between EU and U.S. organisations. The 2020 ruling essentially eroded the agreement for businesses to operate in either region and share relevant information. I expect that this 'situation' between the EU and USA will be resolved in 2021. There are four reasons for this:
The Biden administration might be more open to negotiate
There is no European alternative in the foreseeable time
Organisations have invested hundreds of Billions in public cloud and SAAS platforms. To re-platform will be costing even more and is out of proportion
In the meantime sensitive workloads might move to private cloud solutions
Investing in damage control in user recognition
The impact of traffic prevention from ITP/ETP and GDPR has already shown itself in reduced user recognition. Due to this cocktail of GDPR where consumers need to be explicitly informed and give their consent to share their personal details, and the cookieless era that has started by changes in browser settings organisations will take measures to still be able to collect as much data as possible. Measures are to make the consumer trust you by giving them control in privacy settings and show them what they will get in return for a better user experience. On the technical side, server side tagging will replace client side tagging to bring the concepts of a tag manager such as Google Tag Manager to the server. It allows you to run a tag manager container in the cloud and control how your visitor data is collected and modified for multiple endpoints. You are free to send data from any of your sources. The server container will shape and route the data to the appropriate destinations.
The rise of CDP's continues
In the last few months, we have witnessed a rise in customer data platforms (CDP). It's not easy to organise fragmented data from multiple sources. To operate efficiently, you'll need well-curated and timely operations. In a recent study, an estimated $3 trillion goes down the drain annually due to bad data. Therefore, it's quite imperative that you address this problem early as a company. Luckily, CDP's help to solve this problem by collecting data from all sources. They then organise it, tag it, and make it usable. Crystalloids is experienced in developing CDP's.
Use of first party data to steer on audiences
A central customer view is probably one of the most powerful sources to drive external media channels. By using your central customer view together with external media, you get the opportunity to analyse and manage based on your own data. This also makes it easier to equalise personalisation for customers across different channels - something that is virtually impossible without a central customer view. Online advertising to customers who have just bought the product will then be a thing of the past.
The most common example is the personalisation of media and creation based on factors such as purchase history, recurring website visits or predictive values. The most commonly used "proxy" to deliver this data to media buying tools is through audience segmentation - these usually use cookies. As cookie and browser technology is under pressure there has also been an advance in the use of personal data, such as email and telephone number, to drive media purchasing platforms. This again shows the power of a central customer view for controlling external media. A central customer view consists of multiple identifiers of the customer (with the correct permission), each of which can easily be connected to a media channel, such as search, display / video and social.
Use of first party data to steer on bidding
In addition to audience segmentation and analytics, the data from a central customer view can also be used to influence bidding algorithms on search, display / video and social. For example, it is possible to have bidding algorithms steered on the basis of margin, new customers, offline conversions or lifetime value of existing customers. In doing so, you use business objectives from the central customer view as a breeding ground for media purchasing channels. The algorithms of the media purchasing tools take this signal into account for each user and can therefore optimise in a much more targeted way.
Growth of Google Cloud continues to be 45%
The move of workloads to the cloud is unstoppable. There is an increasing need for data analytics and artificial intelligence, customers are moving to the cloud to lower IT costs, and customers are looking for software to help them collaborate remotely. We expect this growth to continue at the same pace as it did in the last few quarters: 45%. As a result, Google Cloud's cloud revenue will surpass 20 billion Dollars in 2021. Google will continue to be the fastest growing of the three giants AWS, MS Azure and Google Cloud. However, Google will still be the third in market share since the gap with the other is still large.
---
ABOUT CRYSTALLOIDS
Crystalloids helps companies improve their customer experiences and build marketing technology. Founded in 2006 in the Netherlands, Crystalloids builds crystal-clear solutions that turn customer data into information and knowledge into wisdom. As a leading Google Cloud Partner, Crystalloids combines experience in software development, data science, and marketing, making them one of a kind IT company. Using the Agile approach Crystalloids ensures that use cases show immediate value to their clients and frees their time to focus on decision making and less on programming.
No Comments Yet
Let us know what you think