Data Cloud Announcements at Google Next '22
by Crystalloids Team, on Nov 14, 2022 5:02:28 PM

Recap of Key data cloud takeaways from this year's Google Cloud Next '22
This year's three-day Google Cloud Next '22 had so many announcements related to its cloud offerings showing how they plan to compete in the growing cloud market.

Along with new cloud offerings in infrastructure and data, Google also covered an array of company updates, region and key vertical expansions, along with new partnerships.
But for Crystalloids–and our clients–what was most insightful during the multi-location event was everything being innovated and expanded related to Google's Data Cloud.
For those that missed Google Cloud Next '22 and have a stake in Google's Data Cloud, we went ahead and compiled the key highlights related to everything cloud including data analytics, AI, and BI.
1.90% More with BigQuery
One major update unveiled during Google Cloud Next '22 was related to data analysis functionality on BigQuery. Now, those using BigQuery can analyze unstructured and streaming data which includes everything from raw data, videos, audio, and call-center-logs. According to Google, "90% of all data is unstructured" which now means your data analysis options are limitless.
2. Apache Spark meets BigQuery
Another announcement made was the integration of Apache Spark with BigQuery. This integration will allow for data practitioners to create procedures that better integrate with SQL pipelines all while speeding up and enhancing processing times.
3. Storage Support
Google's storage engine BigLake is now compatible with popular data formats such as Apache Iceberg, Delta Lake, and Apache Hudi which means that businesses can get full value from data at a much faster rate.
4. From Data to Looker Studio

BI Google tools are now under the Looker umbrella and what was known as Data Studio is now Looker Studio. With Looker, Google's business intelligence capabilities now allow organizations to infuse workflows and applications with intelligence to not only make data-driven decisions but then visualize them with creative interactive dashboards and compelling reports.
Also, now that Data Studio is Looker Studio, there are more than 600 partner connector options so you can connect to virtually any kind of data. Plus, Looker Studio was programmed with users-in-mind which makes it a very intuitive tool.
5. Tableau & Microsoft Power BI
Another major partnership announcement unveiled during the event was related to the new integration across Looker with Tableau and Microsoft Power BI. This integration will modernize your data and analytics infrastructure to further unlock your data's full value. Now Tableau and Microsoft customers can easily analyze trusted data from Looker and connect with BigQuery further positioning Google as the most open data cloud.
6. Real-Time Replication
On BigQuery you can now replicate data in real-time from sources like third-party database Oracle and others including AlloyDB, PostgreSQL, MySQL without affecting source performance. Now with Datastream, users will no longer need replication solutions that waste resources on complex data pipelines, self-managed staging tables, tricky merge logic, or manual data type conversion.
7. & So Much More
Google Cloud Next '22 was filled with three days of new innovations, enhancements, and software solutions that also merit focus. Some of these include the announcement of new cloud regions in five countries, new API's for Google Meet and Google Chat, a new translation hub on Google Cloud letting organizations localize content in more than 135 languages, and enhancements to the application management platform Anthos.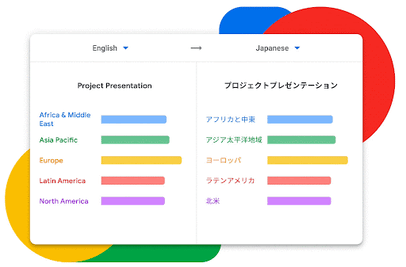 ---
ABOUT CRYSTALLOIDS
Crystalloids helps companies improve their customer experiences and build marketing technology. Founded in 2006 in the Netherlands, Crystalloids builds crystal-clear solutions that turn customer data into information and knowledge into wisdom. As a leading Google Cloud Partner, Crystalloids combines experience in software development, data science, and marketing, making them one of a kind IT company. Using the Agile approach, Crystalloids ensures that use cases show immediate value to their clients and make their job focus more on decision making and less on programming.