Crystalloids recognized for 7 expertises by Google Cloud
by Jan Hendrik Fleury, on Aug 17, 2021 11:56:07 AM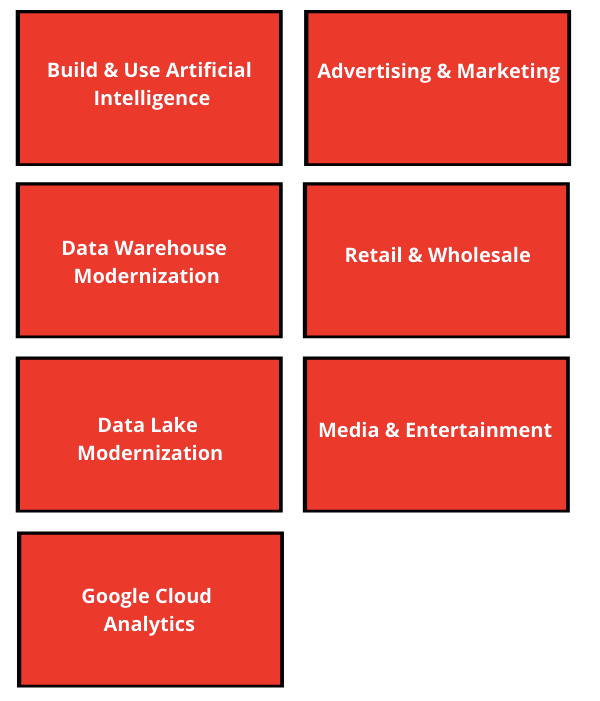 We are thrilled to have obtained several particular 'Partner Expertises' by demonstrating customer success and solutions. These expertises are categorized in solution areas and vertical industries. What are these and what do they mean?
4 Solution area expertises
Build and use Artificial Intelligence
We showed customer success by helping citizen data scientists and ML experts use AI. These engagements provide data scientists and ML engineers an end-to-end machine learning platform with tools, templates, and services to build, train, serve, and manage models on GCP and/or on-premise environments. Solutions also provide pre-built APIs to allow easy integration of AI into applications for common use cases and vertical and horizontal specific applications.
Data Lake Modernizat

i

on
Data Lake Modernization is used to achieve customer success by using Data Lakes. It allows organizations to store, process, and analyze massive volumes of structured and unstructured data in a cost-efficient and agile way. They store data in their native formats, which are reconfigured as needed. The raw data allows data scientists and analysts to carry out exploratory and advanced analytics workflows against holistic datasets with great flexibility and efficiency. Data lakes are typically used in conjunction with traditional enterprise data warehouses (EDWs) and relational database systems.
Data Warehouse Modernization
We use Data Warehouse Modernization for leveraging Google BigQuery. Google BigQuery is used to streamline the Data Warehouse Modernisation path with a comprehensive migration offer, easy-to-use tools, and an ecosystem that manages your complete migration. This way customers can get started with ease.
Google Cloud Analytics
For demonstrated experience with the components of BigQuery, Google Cloud Data Studio, Cloud Composer, Cloud Dataflow, Cloud Datalab, Cloud Dataprep, Cloud Dataproc, Cloud Data Fusion, Cloud Pub/Sub, Cloud Spanner, Cloud IoT Core, Data Catalog, Cloud Life Sciences, Genomics, Google Marketing Platform, Looker, Cloud Dataprep
3 Industry expertises
Advertising & Marketing
We demonstrated customer success in the Marketing & Advertising industry. Helping customers to make a transition from disparate datasets to data-driven marketing. An example:
We developed a Marketing Activation Cloud in Google Cloud Platform for a well-established omnichannel fashion brand in EMEA. We consolidate data in near real-time across visitor profiles, customer engagement, and transactions of purchases, product characteristics, response to advertising, and more. This allows for proactive analysis, custom modeling, and automated training and monitoring of the ML models. The result was improved profit and conversion for Paid Search and Display campaigns.
Retail & Wholesale
This is for partners who demonstrate customer success in the retail industry. Helping them to build dynamic retail experiences so we can win the hearts of our customers with our flexible, secured technology and integrated big data solutions. Crystalloids have several retail, wholesale, and CPC clients for whom we design, develop and monitor data and analytical platforms.
Media & Entertainment
We showcased customer success in the Media & Entertainment industry. We are helping customers to produce, manage, visualize, monetize and distribute content and audiences using Google technologies.
Crystalloids can help you solve your problems related to data so you can make better data-driven decisions. Do you need advice in the field of one of our expertizes?
---
ABOUT CRYSTALLOIDS
Crystalloids help companies improve their customer experiences and build marketing technology. Founded in 2006 in the Netherlands, Crystalloids builds crystal-clear solutions that turn customer data into information and knowledge into wisdom. As a leading Google Cloud Partner, Crystalloids combines experience in software development, data science, and marketing, making them one of a kind IT company. Using the Agile approach Crystalloids ensures that use cases show immediate value to their clients and frees their time to focus on decision making and less on programming.