Will Google Recommendations AI beat your product recommendation model?
by Jan Hendrik Fleury, on Nov 5, 2019 8:15:00 AM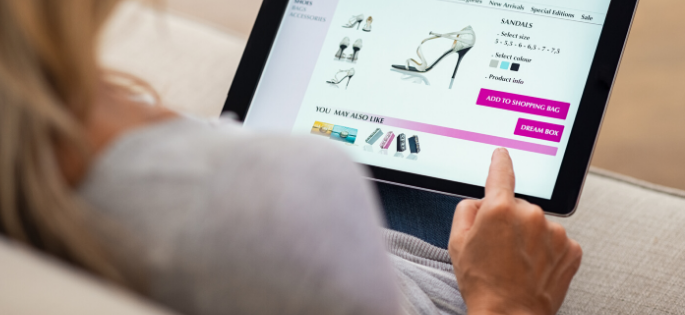 YouTube, YouTube Music, Google Search, Google Display advertising use the largest and most sophisticated industrial recommendation systems ever. It didn't take long for Google to make their machine learning architecture power natively available in the Google Cloud console as part of Google AI solutions. One of the packaged solutions available is Recommendations AI. This has been available for almost 3 years now. Today I would like to briefly share some highlights about Recommendations AI.
We have implemented Recommendation AI at a couple of e-commerce brands showing substantial uplift of 30%+ compared to 'homemade' models. If there were no models in place the uplift is 100%+.
WHY might Google Recommendation AI beat your model?
Most importantly, showing shockingly good results!
Delivers highly personalised recommendations at scale
Recommendations can be activated on channels such as website, app, CRM, advertising
Adapts in real-time to user behavior
Adapts in real-time to changes in variables like assortment, pricing, and special offers
Fully managed service
What's more, you don't have to be on Google Cloud Platform with your products and user data to start using Recommendation AI. Just bring the required data to Google Cloud and you will get responses back to connect to your paid and owned channels by your platform of choice.
HOW does Recommendation AI work?
You can optimize for click-through, conversion or session revenue, and fine tune the models to make sure you omit out-of-stock items or duplicates, for example.
Different models can be optimized for different optimization goals.; the GCP console explains what each one can do and how you can choose to optimize it.
Three steps to take:
Ingest your data

Customize your recommendations

Deliver to channels

1. Ingest your data
Start ingesting the products from your catalogue that you want to use. Of course, you will bring your customer data in as well. The architecture might look like this when the recommendations are pushed to the website: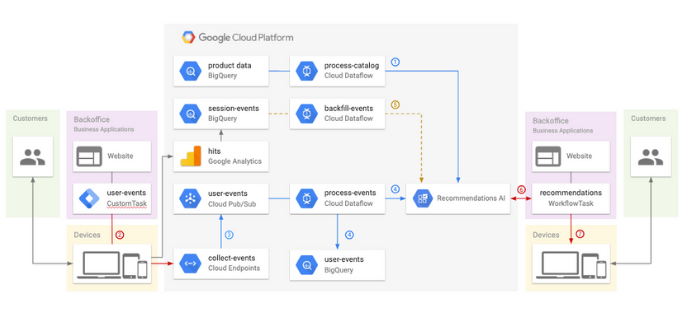 2. Select what you want to achieve
Setting up your own recommendations project in the console gives you the ability to choose what sort of model to train (based on what recommendations you want to generate) and your objective. Are you optimizing for click-through rate–more people click on the recommendation links or products–or for conversion rate–more people choose or buy what was suggested or revenue?
Select recommendation type
Recommended for you (

e.g. on home page)




Other items you may like

(

e.g. on the product detail page)




Frequently bought together

(

e.g. in shopping cart view/ checkout start)




Recently viewed

not a recommendation but useful on (e.g. home page)
Select objective
| | |
| --- | --- |
| Click-thru rate | emphasizes engagement / maximise the likelihood that the user interacts with the recommendation |
| Conversion rate | default optimisation objective for the "Frequently bought together" |
| Revenue per session | maximises the likelihood that the user purchases the recommended item |
Set business rule
Filter on articles that are out of stock

Filter on duplicate items

Filter by a custom tag

Result diversification on/off

Personalisation on/off
3. Deliver to channels
You can deliver to any channel such as Web, Mobile web, Mobile apps, email, social media, etc
WHAT needs to be done to test Recommendation AI?
Define success criteria for Recommendations AI

Build pipeline for transferring product catalogue data to Recommendations AI

Build pipeline for transferring user-events data to recommendations AI in real-time via Pub/Sub and Dataflow

Build pipeline for backfilling historic user-events from BigQuery to Recommendations AI

Customise Recommendations AI for delivering personalised content on a website channel

Test Google Recommendations AI model for delivering personalised content on the Web

, Mobile web, Mobile apps, email, social media or any other channel of your choice
Partner with us
The recommendations are out of the box but the engineering is not. It can be complicated if you haven't done multiple implementations. Partner with us to deliver results as smoothly as possible.

Discover 10 common marketing challenges that you will be able to tackle with marketing analytics.
---
ABOUT CRYSTALLOIDS
Crystalloids helps companies improve their customer experiences and build marketing technology. Founded in 2006 in the Netherlands, Crystalloids builds crystal-clear solutions that turn customer data into information and knowledge into wisdom. As a leading Google Cloud Partner, Crystalloids combines experience in software development, data science, and marketing making them one of a kind IT company. Using the Agile approach Crystalloids ensures that use cases show immediate value to their clients and make their job focus more on decision making and less on programming.