Why every company should use self-service business intelligence tools
by Robin Laurens, on Jan 24, 2018 11:12:10 AM
Big data has been an important element in the success strategies of companies for a while now. With more and more companies switching to the cloud for their data storage, the size of this data has grown excessively in the past few years. Companies are now capturing trillions of bytes of information about their customers, suppliers and operations, which can provide lots of opportunities, for example in the field of machine learning and artificial intelligence.
But, before being able to gain value from data and finding valuable insights at a high speed, there are some challenges to overcome. The requirements around analytics and reporting are, for example, changing fast and misalignment between business and IT is common. But, the most significant challenge is the talent shortage in the area of data science. Because without people that are able to analyse and give insights, your data is worthless.
The solution is to start implementing or expanding self-service business tools. We'll explain you why.
The Data Science Talent Gap
A significant constraint on realizing value from big data is the shortage of talent, particularly of people with deep expertise in statistics and machine learning, and the managers and analysts who know how to operate companies by using insights from big data. The demand for deep analytical positions in a big data world is estimated by 140,000 to 190,000 positions (McKinsey).
In 2018, there will still be a lack of specialized roles like data scientists, information security analysts and high-end software developers. Those struggling to attract scarce talent will spend up to 20% above market value. Also, digital leaders have 90% of the talent they need, while those that are a little behind have only 19% of the talent they need (Forrester)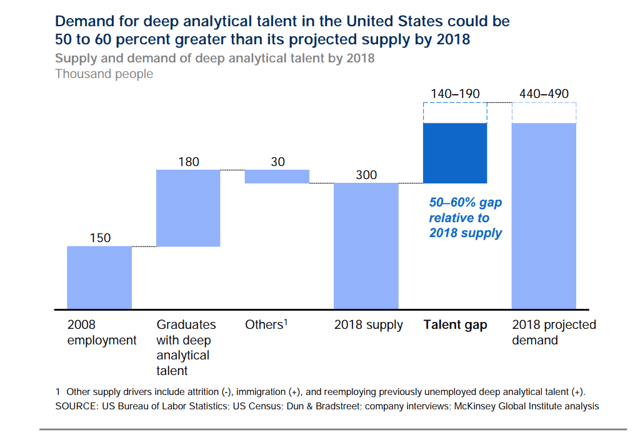 Big Data: The next frontier for innovation, competition, and productivity report - McKinsey Global Institute
These challenges require businesses to consider new approaches to developing analytical expertise:
The Citizen Data Scientist
As competition intensifies, most companies will need a diversified talent strategy. Citizen data scientists are the answer and can be a powerful addition to in-house data scientists. What are citizen data scientists? They are employees who leverage data analytics, but whose main job functions aren't statistics or analytics (InformationWeek). A citizen data scientist could be a line-of-business role, a business analyst, or a member of the business intelligence or IT team.
To be successful in getting you valuable insights, these citizen data scientists need the following characteristics: curiosity, facility with SQL, domain expertise and collaboration abilities. And, most importantly, they need access to the data, with the right insights tool, which needs to be based on the cloud.
The Tool: Self-service business intelligence
Like anyone else in an organisation, citizen data scientists need the right technology to do their jobs. There's a need for tools that automate parts of complex processes such as data preparation and pattern identification and have clear and simple interfaces, which are understandable for most people.

In the end, with role-based access, any individual or application developer can query data stored in a cloud data warehouse, generate reports, or access visualisations. "Cloud data warehousing supports individualised, need-to-know access management" (Google Cloud Guide).

Why the Cloud?
A cloud data warehouse can be scoped enterprise-wide, or organised flexibly based on the structure of the organisation. The access the data can be customised for every department, employee and function within the company, resulting in total control on who has access, and who doesn't. The cloud gives you makes it possible to process and analyse tremendous amounts of data, because the data doesn't need to be stored in the cloud, but can just be stored in the cloud.

As a result, these tools help democratise data science, while still maintaining security safeguards. Giving you valuable insights, without you having to spend tons to hire the rare talent.

At this moment, over one-half of businesses across the U.S., Europe, and Asia-Pacific report they either are implementing, have implemented, or are expanding their use of self-service business intelligence tools across the enterprise.
We developed our own self-service business intelligence tool, based on the cloud. Read more about it here.