The secrets of (our) Customer Data Platform
by Richard Verhoeff & Veronika Schipper, on Jul 18, 2019 1:37:56 PM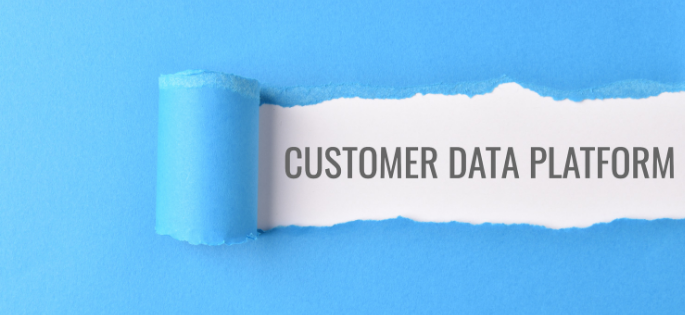 Nowadays, companies are faced with many options on how to collect and manage customer data. There are a lot of technologies that talk about a single customer view or 360 customer profile; it is becoming challenging to choose between all the Customer Data Platforms out there. So let's look into what CDP is and what approach we take to build the CDP functionality at Crystalloids.
What is a Customer Data Platform?
Customer Data Platform brings together customer data from various sources and creates a unified view of the customer that is needed to define customer profiles in marketing. CDP primarily uses first-party data, the type of data that are directly being collected from your customers such as web-behavioural, transactional or profile data. Further, marketing uses this information to build audiences and personas to personalise emails, website content or suggest offers.
Why do you need a Customer Data Platform?
The goal of the customer data platform is to bring all the customer data together and make sense of it. For large companies, this is especially interesting since they have many data scattered across the organisation (such as CRM systems, POS systems, website, mobile apps, loyalty programs, and much more) they find it hard to get a complete view of each customer.
Various departments within the organisations start to manage some of these data using their tools such as data clouds, marketing clouds and data management platforms. These solutions help only partially as they provide an incomplete view and only contain some of the data. That means they create silos of their own.
How can your organisation get more valuable insights from the data you have? For companies looking to meet their customer's expectations, it is essential to know who these customers and this is where customer data platform comes in place.
The difference between Customer Data Platform and Data Management Platform
Both CDP and DMP provide businesses with crucial insights about their audiences and behaviour. They complement each other due to their functionality, but the difference is mainly in the type of data they collect.
Below we have listed the main characteristics of each platform.
Data Management Platform (DMP)
Customer Data Platform (CDP)
Key Difference
Focuses on creation of anonymous segments and categories that can be used for advertising
Creates a single customer profile that can be used for more than only advertising. Keeps the historical data.
Data Types

Uses mostly second and third-party data:

cookies

IP addresses
device IDs

Uses first-party data:


advertising data (e.g. Google Ads, Facebook)
email management systems (e.g. Hubspot, MailChimp)
CRM systems (e.g. Salesforce or MS Dynamics)
test and personalisation solutions (e.g. VWO, Optimizely)
e-commerce systems (e.g. Magento, Shopify)
web analytics data (e.g. Google Analytics)

Customer Profile
Temporary customer segments based on anonymous identifiers (cookie, GAID
Specific customer profiles based on customer identifiers (email, name, address, login)
Purpose
Mostly advertising
Personalisation in marketing (emails, website content, advertising, acquisition marketing, digital targeting)
Customer Data Platform solutions
Currently, there are several customer data platforms on the market which come as software as a service (Saas) sold by a vendor or a packaged software. In general, they all offer a collection of data and customer segmentation, but they also have their differences.
Some platforms focus on building databases and can handle queries like a regular database. Others are good at data management and operations and come with features such as analytics and reporting. Additionally, some platforms offer machine learning capabilities. CDP institute offers a nice selection of vendors here.
Based on the definition of CDP, these systems should be able to ingest data from all sources, maintain full input detail, and share the results with other systems. Unfortunately, not all systems are capable of doing this.
When it comes to pricing, CDP vendors usually work on a subscription basis. Their monthly plans defer in features and depend on the following:
the amount of sources you need to connect
the number of synced warehouses you have
the amount of MTUs (monthly tracked users = identifiable profiles which could be anything from a cookie, ID number or IP address)
whether you want to add extra marketing tools to manage advertising activities or real-time interaction management etc.
Crystalloids' CDP solution based on Google's vision
Google's mission is to "organise the world's information and make it universally accessible and useful. Through products and platforms like Search, Maps, Gmail, Android, Google Play, Chrome and YouTube, Google plays a meaningful role in the daily lives of billions of people."
Crystalloids extends this mission to: organise for our customers all the available information about consumers' and business as such and make it universally accessible and useful. Through products and platforms like Google Cloud Platform and Google Marketing Platform, Crystalloids plays a meaningful role in the daily life of business people.
At Crystalloids, we build the CDP functionalities in Google Cloud Platform using a mix of Google Cloud Technologies. We perceive the Google Cloud Platform also as a Customer Data Platform. Google provides already a lot of out of the box solutions needed to manage data of customers.
How does it work
When we follow the CDP Resource's model below, we see Google Cloud Platform delivers capabilities in all areas from collection to delivery. Furthermore, a lot of these services are delivered as a Platform as a Service model and based on utilisation costs only. The benefits of PaaS from Google you can find here.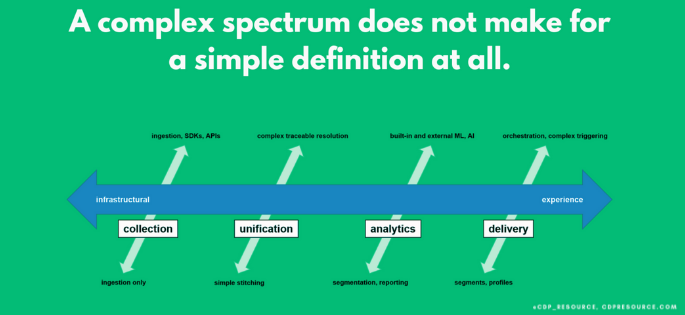 Source: CDP Resource
Collection
From schedule collection of CSV files via Google Cloud Storage, Google Cloud Composer (Apache Airflow) to realtime streaming injects of events of a Cloud API services via Google Cloud Pub/Sub and Google Cloud Dataflow (Apache Beam).
ContactServicesAPI allows delivery to realtime systems such as Google Analytics 360 or Google Mobile Analytics. Both allow gaining insights about consumers' behaviour on the website or mobile app. This data is then being used to create audiences that can drive impact with connections to Google advertising platform.
Unification
Using Google Cloud Datastore we build simple and sometimes complex unifications. As a part of our proprietary ContactServicesAPI we help companies across the entire data journey; from collecting and transforming data from many resources to audience analysis, personalisation and marketing activation using Google products.
Once data is collected, it is displayed in a unified platform. A unique identifier is used to link all of an individual customer's information from multiple sources so that it is accessible to all relevant teams and systems.
Analytics
All CDPs should be able to deliver basic analytical capabilities. In our case, we use these Google Cloud analytical products to generate insights from data:
Storage and transformation
Google Dataflow; Google's implementation of Apache Beam

Google BigQuery
Visualisation
Google Maps
Google Looker
Google Data Studio
Knowledge discovery and modelling
Google Cloud Dataprep; Google's implementation of Trifacta
Google Cloud Datalab; Google's Jupiter Notebook Implementation
Google ML Engine
Python
Delivery
The last part of the model is delivery, or how the data is being connected and sent to other systems. This is one of the most critical areas where CDPs differ from each other, as they are not all able to create a loopback to all the systems it collects data from. In our case this is possible. We can deliver the data to:
Google Analytics 360
Google Marketing Platform
Crystalloids build and hosted on the Google Cloud Platform API's to be used in:

Email systems
Service systems
Webshops
Google Cloud Composer; Google's implementation of Apache Airflow for orchestration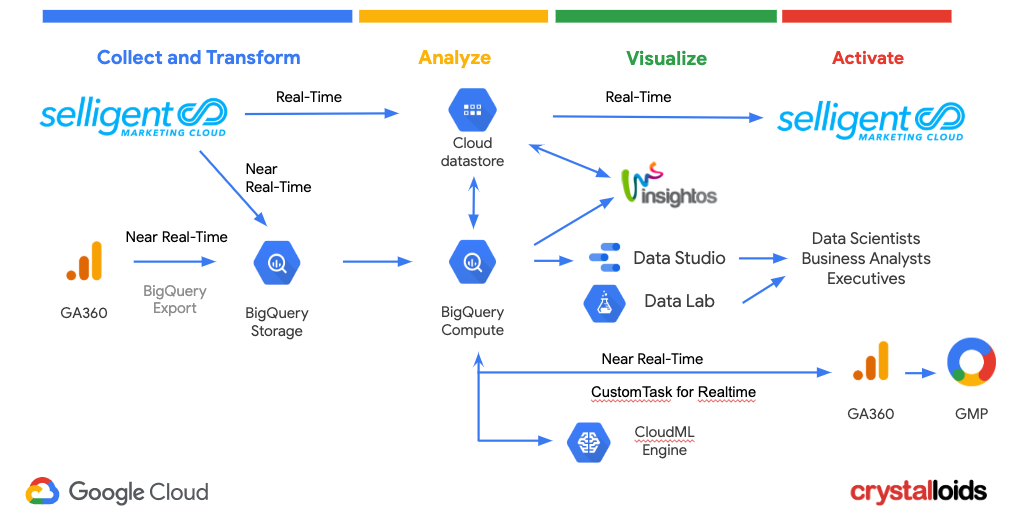 An example of an architecture model
To sum up, our Contact API allows for data integration in the backend from various sources such as point-of-sale systems, website, email or e-commerce platforms that are not naturally designed to talk to each other. Additionally, unlike many other CDPs, there is a loopback to all the systems it collects data from. Moreover, the Contact API does not come with licence costs and is highly scalable.
Conclusion
Serving the right kind of experience to the right customer is a goal of many marketers. The amount of data is growing so quickly that having one tool which combines all the customer channels with multiple tools from a variety of vendors is becoming more than desired. This is why customer data platforms are becoming so popular because they promise something that could not be achieved before.
Having defined what CDP is and how it differs from DMPs or other data solutions, it should now be easier to make the decision towards the right software on your data-driven journey. We have shown you a brief summary of our CDP solution which we implemented at companies such as Rituals, Body&Fit or ACSI. Feel free to contact us and discuss more about our services.
Moving your data warehouse to the cloud? Here's what you need to know.
ABOUT CRYSTALLOIDS
Crystalloids helps companies improve their customer experiences and build marketing technology. Founded in 2006 in the Netherlands, Crystalloids builds crystal-clear solutions that turn customer data into information and knowledge into wisdom. As a leading Google Cloud Partner, Crystalloids combines experience in software development, data science, and marketing making them one of a kind IT company. Using the Agile approach Crystalloids ensures that use cases show immediate value to their clients and make their job focus more on decision making and less on programming.