Passionate about tennis, interview with developer Livia Cirnu
by Livia Cirnu, on Mar 17, 2021 1:45:15 PM

What is your role at Crystalloids?
I have been working for Crystalloids since 2019, working as a developer and more recently as a data engineer. My current projects include customers such as PVH, where I help out with the data engineer tasks (such as validating data, building pipelines etc). In addition to that, I also have a role in the DevOps team where I am responsible for monitoring processes and improving them for multiple clients. This combination brings an interesting variety to my work and it makes it fun.
What do you do if you are not working?
If I am not working I am trying to spend most of my time outdoors, playing tennis, doing Crossfit or travelling. I also enjoy going to rock or jazz concerts and visiting art museums. One of my favourite museums in the Netherlands is the Rijksmuseum, not only for the impressive art collection but also because of the architecture of the building.
When did your passion for tennis start?
I started playing tennis when I was 5 and a half years old, so by now it will be 22 years since I got myself into this beautiful journey that has become a big part of my lifestyle. To be honest, it was mostly by chance. My dad was a huge tennis fan and he bought me a baby tennis racket. Conveniently, we had 3 tennis courts within 5 min of my house. So my mom decided to sign me up for some lessons. In a couple of years, when I was of the age of 7, I decided that I wanted to become serious about my tennis career.
How did you develop yourself ?
After I decided that I wanted to become successful in tennis, I made sure that I was committed to the process. Between the ages of 13 -17, I have had at least 6 tennis training sessions per week + 5 times fitness training. I had to be very focused and I was aware that the only way to get better is to put in the work. Some say that it takes 10,000 hours until you become really good at something.
In the end I did not become a professional athlete, but I achieved a different type of success by obtaining a full scholarship.
Later I also started to give training lessons.
So you are also a trainer! Can you share some nice experiences with us?
After 4 amazing years playing collegiate tennis, I had to decide what I wanted to do with all my tennis knowledge and experience. The natural step that followed was to help others succeed as well, and so I became a tennis coach. During the period when I was coaching, I had students of different ages, between 3 to 89 years old!
I really loved working with the 3 years old children. We had baby tennis rackets and special foam balls that they could play with. And it was so fun to see how for them every little thing that they did was a victory in itself! For example, in the first lesson they had, they just learned how to hold the racket and maybe try to hit a ball or two. But already after the 3rd lesson you could see how much more confident they were in holding the racket and running on the court.
In the image above you can see the group of children that I used to teach back in Kansas City. There we had an Academy program that was meant for children who wanted to be more serious about tennis. I had returned to the tennis club 2 years after I left the States and they were happy to see me.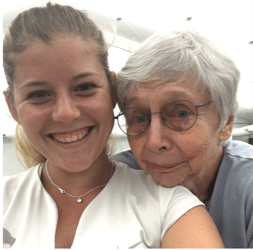 Another story that I am fond of is of Joan, the lady featured in the picture above. At that time, she was 89 years old and she came once or twice a week to have a 45 minutes tennis lesson with me. Joan never skipped a single lesson and she always had the most amazing stories to tell from her younger days. Seeing her play at that age really humbled and impressed me. Also, this shows how longevive you can be in a sport like tennis!