Google announces Stadia online gaming streaming service
by Veronika Schipper, on Mar 22, 2019 3:06:24 PM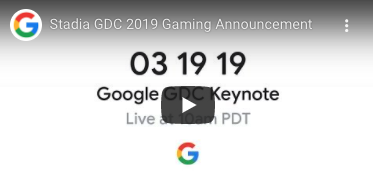 Google has just gotten serious about gaming with their recent announcement of Stadia, a service that streams games directly to your browser. With Stadia, games on YouTube will feature a PLAY button which will instantly bring viewers into the game in their browser within a couple of seconds.
Launching later this year in North America and Europe, Stadia will offer up to 4k streaming at 60 fps (frames per second), HDR and surround sound. Games are playable on all sorts of devices from laptops, smartphones, tablets to TVs. Moving the game from one device to another is easy and quick, and you will be able to continue playing from that same moment where you finished.
As a user, you are not limited to playing where your console is, nor you need to purchase a new box. Stadia is the new platform, and it is the Google Data Centre that takes care of all the heavy lifting and streaming to your browser. You don't need to download or install anything to start playing.

*Source: CNET
What's more, you don't have to purchase any new hardware. Use your current keyboard, mouse or controller is perfectly fine to enjoy Stadia. But for the real fans who want to maximise their gaming experience, Google also released a new Stadia controller which is a said to be more than just a gaming controller.

Next, to the standard functionalities it comes with two special buttons. One for sharing to YouTube, which allows you either to share it with your friends or save it for yourself and return to the game whenever you want. The second one is the Google Assistant button which helps access unique in-game elements incorporated by developers.
As mentioned earlier, Stadia should be released later this year in Europe. The list of games available with Stadia has not yet been confirmed, but we know of a few already: Assassin's Creed: Odyssey, DOOM: Eternal, Tomb Raider or NBA2K. Also, the cost for the subscription remains unrevealed, so we hope to get more information about that soon.
ABOUT CRYSTALLOIDS
Crystalloids helps companies improve their customer experiences and build marketing technology. Founded in 2006 in the Netherlands, Crystalloids builds crystal-clear solutions that turn customer data into information and knowledge into wisdom. As a leading Google Cloud Partner, Crystalloids combines experience in software development, data science, and marketing making them one of a kind IT company. Using the Agile approach Crystalloids ensures that use cases show immediate value to their clients and make their job focus more on decision making and less on programming.

For more information, please visit www.crystalloids.com or follow us on LinkedIn.