CES 2019: Why everyone talked about the Google Assistant
by Veronika Schipper, on Jan 17, 2019 10:32:54 AM
CES 2019, the biggest consumer electronics show in the world, ended last week in Las Vegas and like every year, it showcased the latest innovations from audio, video, IoT, robotics and many more. The show offered a unique chance for tech brands to interact with as many as 180 thousand visitors in a week and engage with them in creative ways.
Talking about creative, Google offered a truly engaging marketing experience with their Google Assistant Playground - an interactive ride through various home mockups showing how Google Assistant makes one's life easier. See it for yourself in the video: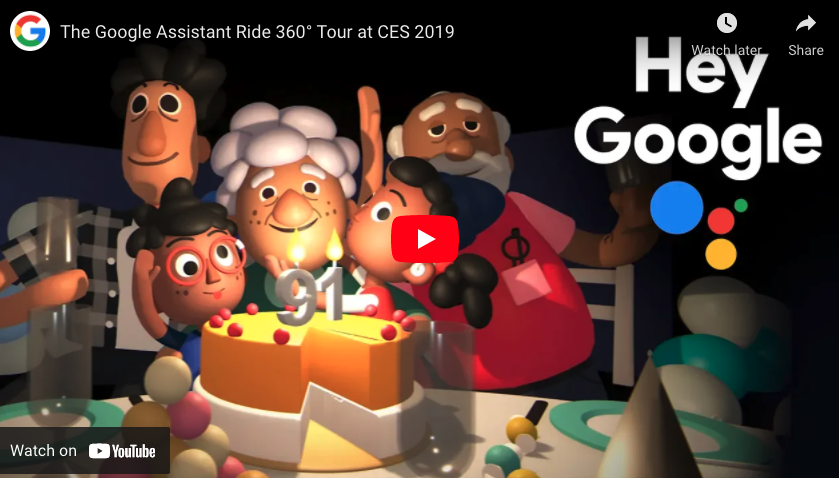 Google Assistant was a significant trend at this year's CES judging by the number of products announced at the event. Companies such as Lenovo, Samsung or JBL featured some of the most exciting devices that integrate with the Assistant and help improve people's everyday routine.

These are the five devices that particularly caught our attention because of the way they leverage the functionalities of the digital assistant and offer interactive and smart user experiences:
1. KitchenAid's Smart Display is a 10inch waterproof 6tablet like screen. With this device, users get free access to Whirpool's food app Yummly offering over two million cooking recipes and recommendations based on their historical search. The smart display is controlled by voice and can preview video's, create a shopping list or play favorite music.
Source: KitchenAid

2. Google Assistant Connect comes in the form of a chipset that allows manufacturers to build the Google Assistant in their products quickly. The Google Assistant Connect platform can be programmed by a developer to choose, for example, how much of Google's computing they want to build into their devices.
3. JBL Live series headset come in three variations: LIVE 400BT, LIVE 500BT, and LIVE 650BT each one being able to talk with the Google Assistant. These noise-canceling headphones come with features such as TalkThru that allows pausing music at the touch of a button and Ambient Aware helping one to control the amount of noise that they wish to hear from their surroundings.
Source: JBL
4. Lenovo Smart Clock is a new addition to Lenovo's smart home family. This ultimate companion for your bedroom allows you to wake up naturally with auto-adjusting screen brightness. The intelligent clock promotes restful sleep that can play relaxing music, suggest smart alarms or control other smart devices at your home.
Source: Lenovo
5. Capstone Connected Home was one of the (many) smart mirrors popping at CES 2019. Acting as an intelligent display and mirror in one, it integrates well with the Google Assistant displaying emails, messages or streaming YouTube videos while you are doing your makeup.
Source: Techradar
Google has now officially reached over 10,000 smart home devices from 1,600 brands compatible with Assistant, intensifying the competition with Amazon Alexa. The future of its Assistant looks promising, and Google promises to create even "more ways the Assistant can help."

Curious how to connect your business with the Assistant or build a conversational agent? See what we developed for Rituals Cosmetics. Book a meeting with us.
ABOUT CRYSTALLOIDS
Crystalloids helps companies improve their customer experiences and build marketing technology. Founded in 2006 in the Netherlands, Crystalloids builds crystal-clear solutions that turn customer data into information and knowledge into wisdom. As a leading Google Cloud Partner, Crystalloids combines experience in software development, data science and marketing making them one of a kind IT company. Using the Agile approach Crystalloids ensures that use cases show immediate value to their clients and make their job focus more on decision making and less on programming.
For more information, please visit www.crystalloids.com or follow us on LinkedIN