5 tips to pass the Google Cloud Professional Data Engineer Certification exam
by Veronika Schipper, on Aug 1, 2019 9:18:13 AM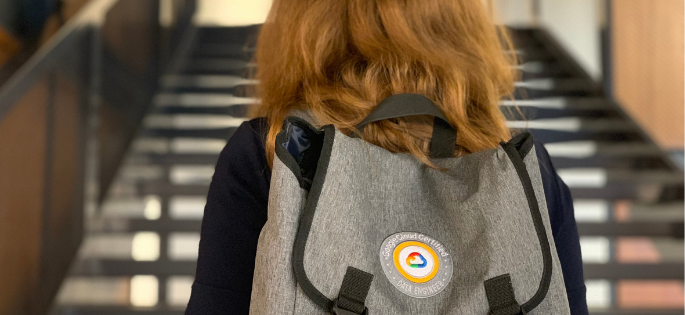 With Google Cloud Data Engineering certification, you can show the world that you are an expert in building data-driven solutions using Google Cloud. As companies are collecting loads of data, the need for skilled professionals who can build data solutions in the cloud increasing. And there is no better way to prove that you have the skills than having the certificate in your hands.
We sat down with our colleagues and proud owners of the Google Cloud Data Engineering certification from March 2019 to gather tips and advice from their journey to success. Since nothing beats the human experience here is what you should know if you are considering taking the exam.
1. Finish all the tracks on Coursera Data Engineer course
"To start with, I would recommend finishing the Coursera Data Engineer on the Google Cloud Platform track first, which will cover around 40% of the required knowledge. The rest should either come from the internet, documentation or your own experience. Do not just rely on the training materials and Coursera, but use your own experience in developing," explains Mengmeng, one of our certified data engineers.
Google recommends 3+ years of industry experience, including 1+ years designing and managing solutions using GCP to succeed with the certification. We're sure you can pass with a little less than that. Nevertheless, it is crucial to your success to have at least a few months of hands-on experience with Google Cloud technology.
"Once you are well- familiar with GCP, you don't need to do all the labs, but focus on the videos and take notes. To understand more about Cloud Identity and Access Management (IAM) you can take the first course of Cloud Architect on Coursera and watch the videos about IAM," Mengmeng continues.
2. Take the Linux Academy course
Coursera won't prepare you for everything, but it's a good start, and as mentioned it covers almost half of the exam topics. The Data Engineer course on LinuxAcademy takes it a step further as it talks about Dataprep, a topic more absent on Coursera. What's more, the course is exam-oriented, which might come very helpful when preparing for the exam.
You will need a monthly subscription to proceed with the training. So once you have it, it's worth taking more courses than just this one. Think Cloud Architect or similar, depends on what you are aiming for in your next Google Cloud certification track.
There's one thing to mention, though. Linux Academy is working on updating this course as there have been some changes to the Google exam content after March-29. Following the comments online, the current version of the course lacks details in data storage transfer technicalities (Datastore, Bigquery, Dataproc), data processing technicalities (Dataflow, Pub/Sub) and data monitoring technicalities.
But for the time being, the course works just fine, you just might want to supplement it with reading the documentation and the ML Crash Course provided by Google (includes L1 and L2 regularisation).
3. Read the best practices on GCP
Use the GCP documentation to learn about best practices which is not only helpful for the test but also your everyday work. The exam contains lots of questions about the type of service to use and how to set it properly. That is why the focus should be on all possible solutions and how they can be combined with other services, not just on Data Engineering.
Get familiar with the concepts of IAM and look for best practice of BigQuery, BigTable etc. Here are some documentation pages you might find helpful. Of course, feel free to use other documentation as well:
4. Go through the exam description page
People, in general, are reluctant to reading instruction manuals. In this case, we strongly recommend going through the exam description on Google Cloud's page before taking the test. There are two case studies. Read them and proceed with the practice exam to test your knowledge and readiness.
5. Download the Data Engineer cheatsheet on Github
"I found this cheat sheet on Github, which is a great final summary of everything I studied. Without the proper knowledge, the sheet won't be enough, so make sure to follow the advice above. But it contains lots of information which together with your knowledge will get you ready for the exam." Mengmeng concludes.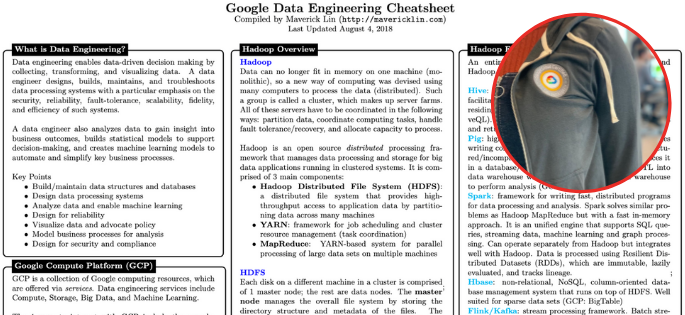 About the exam
Going through the materials, you should now be well-prepared, but of course, feel free to extend your knowledge even further where needed. The 2-hour exam consists of around 50 multiple-choice questions and needs to be taken in person in one of the Google test centres, which can be found here. There are several locations available in each city, so pick a place and a date. The registration fee is $200, and you get one chance to take the exam.
Once completed you will receive a passed or failed email. Once you pass, you are certified for two years. Alongside with the certificate, you will also receive a redemption code to pick your exclusive Google Cloud Professional Data Engineer merchandise. There are bags, cups, t-shirts, hoodies or backpacks. For some you will have to wait a couple of weeks to arrive, others are available immediately.
Summary
All in all, you need to have a solid Google Cloud knowledge to start with. If you are not familiar with the technology, the advised courses will not make sense to you. To get well prepared for the exam, we encourage you to complete the Linux Academy Data Engineering course followed by the ML Crash Course provided by Google. Also, watch the Coursera Data Engineer course videos and read about the best practices of GCP products. Combining the studies with your knowledge, you should be ready to pass the exam. Good luck!
Looking for a next step in your career? We are open to meet new talents.
ABOUT CRYSTALLOIDS
Crystalloids helps companies improve their customer experiences and build marketing technology. Founded in 2006 in the Netherlands, Crystalloids builds crystal-clear solutions that turn customer data into information and knowledge into wisdom. As a leading Google Cloud Partner, Crystalloids combines experience in software development, data science, and marketing making them one of a kind IT company. Using the Agile approach Crystalloids ensures that use cases show immediate value to their clients and make their job focus more on decision making and less on programming.
For more information, please visit www.crystalloids.com or like us on LinkedIn.