4 tips how to win your customers in 2019
by Veronika Schipper, on Feb 4, 2019 9:20:37 AM

Last week we attended the DDMA Data Dag 2019 in Amsterdam which was aimed at professionals who see a smart use of data as a factor to differentiate themselves. We were excited to be part of this event because we strongly believe in the power of data in marketing.
The event was full of inspiring presenters, and one of them was Reineke Reitsma, VP of research at Forrester, who talked about changing customer behaviour and customer-obsessed organisations and how they can keep up with the ever-growing amount of data and new technology. Her presentation was full of interesting insights a and these are the four highlights that we want to share with you:
1. Empowered customers are sensitive to customer experiences
In the Netherlands, around 20% of the market are "empowered customers". These tech-savvy early adopters are always the first to know what's happening, which products or services you just launched and the ones who are willing to purchase asap. They have high expectations, are loyal, and if satisfied they will endlessly promote your brand.

On the other hand, they are also very well informed about what the competition is doing, and they project these expectations on your business. Their experience from one brand affects the other, and that can vary from excellent customer service, gifts upon sign up to what's app notifications about their purchase delivery. That is why the empowered customers are the hardest to maintain, please and satisfy.
2. Consumers are willing to exchange their personal data in two cases
As the consumers' behaviour is continuously changing, brands need to be able to react quickly, offer enough choices and propose suitable alternatives when needed. According to Forrester, 75% of the consumers in the UK expects personalisation on websites, and at the same time, 49% is worried that companies know too much about them. So how to achieve the right balance?
Prospects will share with you their data only if they trust your brand and if they get something back for it. Trust is hard to build but can be achieved by selling a good quality product, be transparent towards your audiences or enabling customers to interact with you easily. Getting something back might be in the form of information or e-commerce a discount for their next purchase, for example.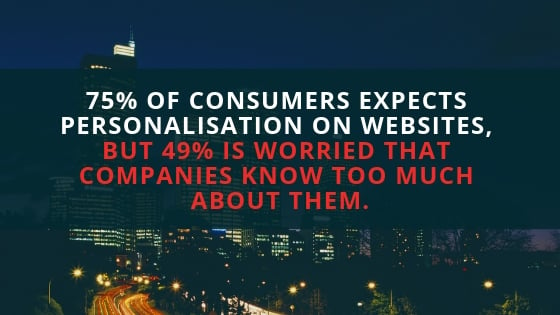 Source: Forrester, Consumer Technographics North American Online Benchmark Survey (Part 2), 2016 and 2017
3. The difference of being customer-obsessed vs. customer-centric
It might be hard to tell the difference between a customer-obsessed and customer-centric company, but let's dive into it a bit. Where in a customer-centric organisation the customer is part of the strategic vision, in a customer-obsessed organisation they dominate every decision that is being made and how the organisation acts.

Customer-obsessed companies are led by customer's needs which are being translated into all aspects of the business. Customers play a crucial role when it comes to operational principles and designing products or services. Often, fast-to-market is more important than perfecting a product while having to extend the launch date, because the momentum is now.
4. Become insights-driven, not instinct driven
Forrester says that only 8% of companies are currently insight-driven. It is surprising because most of the data analysts and decision makers are planning on improving their organisations by making the most out of their data. The most challenging remains willing to invest, getting people to care or finding people who can do the work.

In the last two years, only 45% of the company's decisions were made based on data and analytics, and the rest was instinct driven. And this is where culture comes in place and takes the most critical role in the organisation. Culture is the only thing that can trigger the change and help your business make the switch.
Source data: Forrester
ABOUT CRYSTALLOIDS
Crystalloids helps companies improve their customer experiences and build marketing technology. Founded in 2006 in the Netherlands, Crystalloids builds crystal-clear solutions that turn customer data into information and knowledge into wisdom. As a leading Google Cloud Partner, Crystalloids combines experience in software development, data science, and marketing making them one of a kind IT company. Using the Agile approach Crystalloids ensures that use cases show immediate value to their clients and make their job focus more on decision making and less on programming.
For more information, please visit www.crystalloids.com or follow us on LinkedIn.